Events
Main events calendar
Past Events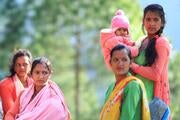 8 March 2019 - 8 March 2019
Global
International Women's Day, celebrated globally on 8 March, is dedicated to reflecting on the achievements of ordinary women who have made an extraordinary impact in their countries and communities, and to celebrate the contributions of women all around the world. The theme for this year's International Women's Day is "Think equal, build smart, innovate for change".
Details

1 March 2019 - 1 March 2019
Kathmandu
Global, regional and Nepali Champions and Friends will meet to exchange experiences and discuss plans for creating that world where SheDecides, with a special emphasis on the Asia Pacific Region. For more information write to nepal@shedecides.com
Details
1 October 2018 - 4 October 2018
Kathmandu
The 3rd Asia Regional Focal Point Workshop will be held in Kathmandu, Nepal, from 1st-4th October 2018. The key objective of this year's workshop is to strengthen a solution-focused approach to accelerating progress toward 2020 and beyond through: 1) analyzing progress to identify gaps and challenges; 2) learning from other countries, including high-impact and best practices; 3) prioritizing catalytic actions and interventions for the next 18 months; and 4) reaffirming roles and responsibilities to support coordination and stakeholder engagement.
Details
Pages