LIBANG, ROLPA — Khuma Sunar trekked three hours from her village to reach Libang, the district headquarters, and play a game that was previously dominated by boys in this part of the mid-western hills of Nepal. Thanks to 32 adolescent players like her, girls in Rolpa have set a good example to others that they can also play volleyball and raise their voices against child marriage through sports.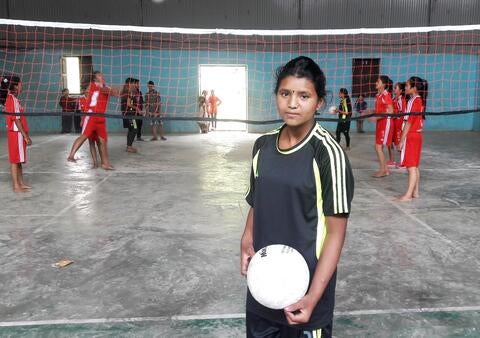 Khuma Sunar trekked three hours from her village to reach the district headquarters and play a game, previously dominated by boys.
The 15-year-old was one out of 32 players representing four different girls' groups who took part in the friendly volleyball tournament in Liwang on 14 June. The tournament was organized to raise awareness about child marriage and the importance of educating girls. The group she represents, known as Laliguras Girls' Circle in her village Khumel, is slowly changing traditional notions about volleyball in her village. "Many people in my village would think volleyball is a boys' sports. But such perception is changing now," she says.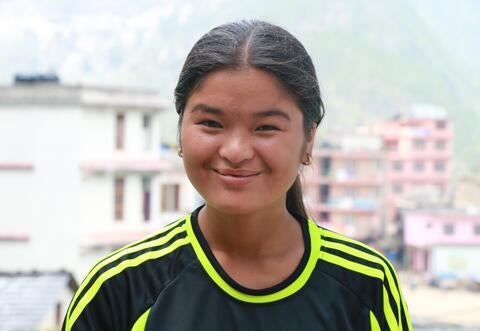 Rupa Gharti Magar (15).
The District Coordination Committee (DCC) in partnership with the Women and Children Office (WCO) and the United Nations Population Fund (UNFPA), organized the tournament under the Global Programme to End Child Marriage. "To advocate against harmful practices like child marriage, sports is an effective medium as it brings all stakeholders into a common platform for a good cause," says Rupa Gharti Magar (15), who also walked for three hours to take part in the tournament. "I don't mind walking hours to play volleyball or other sports as I want to prove that girls can also play volleyball on an equal footing to boys."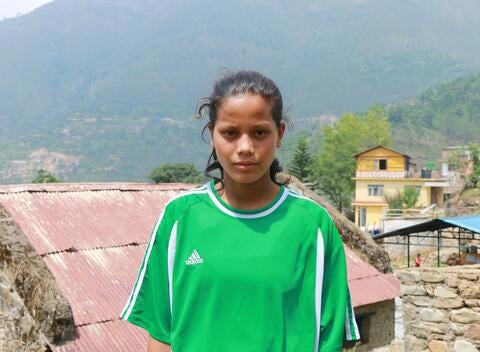 Maya Nepali (15), a member of the winning team.
Her views were echoed by other girl players. Maya Nepali (15) says, "Just like coaches, linesmen, players, organizers and audience are required for any volleyball match, parents, leaders, government officers, teachers, youth and girls should come together to end child marriage." She was a member of the winning team — Saptarangi Girls' Circle — from Kotgaun. The other three teams were from Khungrri, Khumel, and Liwang.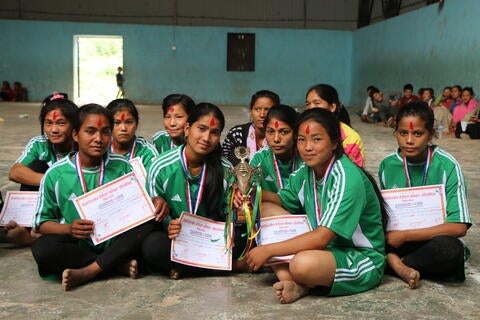 The champions — Saptarangi Girls' Circle. 
The first winner (Saptarangi), second (Laliguras Girls' Circle) and third (Unnati Girls' Circle) received medals and certificates. The fourth team (Libang Girls' Circle) was provided with a consolation prize. At least 300 people, including top government officials, local political leaders, young people and representatives of civil society organizations watched the tournament live. Dr Dijan Bhattarai, Chief District Officer, was the chief guest of the event chaired by Mr. Sushil Baidhya, Local Development Officer.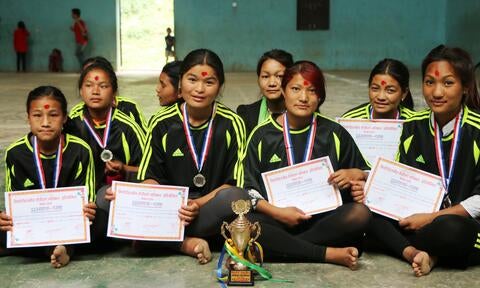 First runner-up — Laliguras Girls' Circle.
Girls in Rolpa face a wide range of challenges, including entrenched gender discrimination, high rates of adolescent pregnancy and harmful practices such as child marriage. It is estimated that as many as 73.8 % of girls in Rolpa get married between the ages of 10 to 19. The national average is 41%. A violation of human rights, child marriage robs adolescent girls of their childhood. Those who are married off early are too often forced to drop out of schools, bear children before they are ready and subjected to violence and abuse.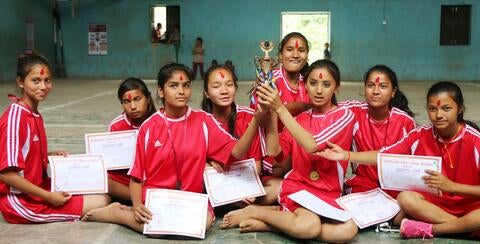 Second runner-up — Unnati Girls' Circle.
The Global Programme on Ending Child Marriage, funded by the European Commission and the UK, aims at preventing this harmful practice and empowering girls in 12 countries, including Nepal, around the world. In Nepal, it directly supports the 2016 National Strategy to End Child Marriage through UNFPA and UNICEF. UNFPA is working closely with the DCC and WCO in Rolpa with a special focus in areas such as Khungrri, Khumel, Kotgaun, Liwang, Dubring, Dubindanda, Rangkot and Rangsi.                                — Santosh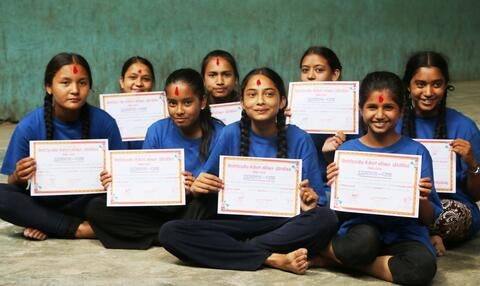 Third runner-up — Libang Girls' Circle.