In her home district in Province 7 of Nepal, 19-year-old Sangita BK needs no introduction. She is well-known as an activist against child marriage in Bajhang district. In the last three years, she has – on her own – stopped at least a dozen child marriages. 
During the same period, she formed nine adolescent girl support groups, with a total of 197 active members. She leads one of these groups herself, the Pariwartan Adolescent Girls' Circle, teaching 28 girls to stand up for their human rights.
And now, she is advocating at an even higher level: She recently convinced the local government authority to allocate a budget to help continue these girls' empowerment activities.
Today is International Women's Day, a day to celebrate activists who are working around the world to empower women and press for progress.
Sangita is one of these incredible women.
A voice for others
Sangita started fighting inequality at a young age. She and her family are members of the marginalized Dalit ethnic group, or caste. She remembers experiencing caste-based discrimination as a young child.  "I asked my parents so many times: how can such discrimination exist in our society?" she said.
She soon faced another kind of inequality: gender inequality, in the form of child marriage.
When Sangita was in the 10th grade, her parents told her they wanted her to get married. 
Child marriage is a common practice in the country. Surveys show more than a third of women, aged 20-24, were married before age 18. But the practice is detrimental to girls, leaving them extremely vulnerable to abuse and exposing them to early pregnancies, potentially before their bodies are ready.
Child marriage also increases the likelihood girls will drop out to assume domestic responsibilities. "Had I married back then, I would have definitely been out of school," Sangita said.
Fortunately, she was well acquainted with the downsides of child marriage.
She had been educated through a programme supported by UNFPA and the government's Women and Children's Office, which trains community leaders, activists and youth about human rights, as well as the harms of child marriage.
"I was not against my parents, but against their mindset that a girl should be married off at an early age," she said. "I repeatedly told them that for any girl, education and empowerment come before marriage. And they were convinced."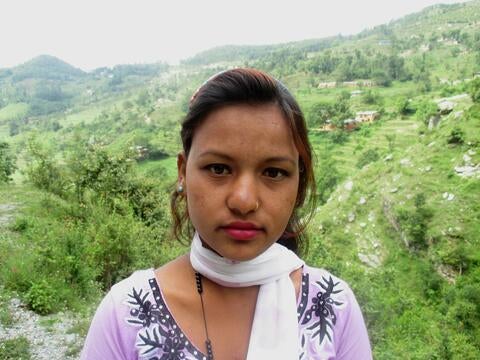 A journey of empowerment
Sangita participated in UNFPA-supported leadership trainings in 2013 and 2015. There, she learned counselling skills as well as social and financial skills to pass along in her adolescent girls' groups. 
These trainings, called "Rupantaran" (meaning "transform" in Nepali), equip girls with a range of important skills, from accounting, nutrition, sexual and reproductive health, and civic participation. Supported by the District Women and Children's Office and the UNFPA-UNICEF Global Programme to Accelerate Action to End Child Marriage, Rupantaran has reached more than 5,000 girls like Sangita since 2015.
"The knowledge I acquired from this training has helped me give a voice to other girls so that they can take ownership of their lives and develop their leadership and skills," she said.
The girls' groups she started have had a lasting impact on girls in her district, Bajhang.
Many members have been able to convince their parents to delay or cancel child marriages. They even intervene when child marriages are being arranged in the community.
The girls also conduct peer education sessions in schools, at community rallies and in door-to-door campaigns. In addition to addressing child marriage, they also take on Chhaupadi, the practice of secluding women, often in unsafe and unhygienic conditions, during menstruation.
They also call for an end to gender-based violence, and some groups take on the issue of caste-discrimination. 
"A big change"
Today, Sangita is as determined as ever. Now a graduate student, she treks five hours every day on her way to and from class.
"She is a role model in her community and family, and many girls look up to her," said Tita Magar, an official at the Women and Children's Office.
And Sangita continues to be an active campaigner against child marriage and inequality.
"When people understand why gender-based violence or child marriage should end and act accordingly, that's a big change," she said.