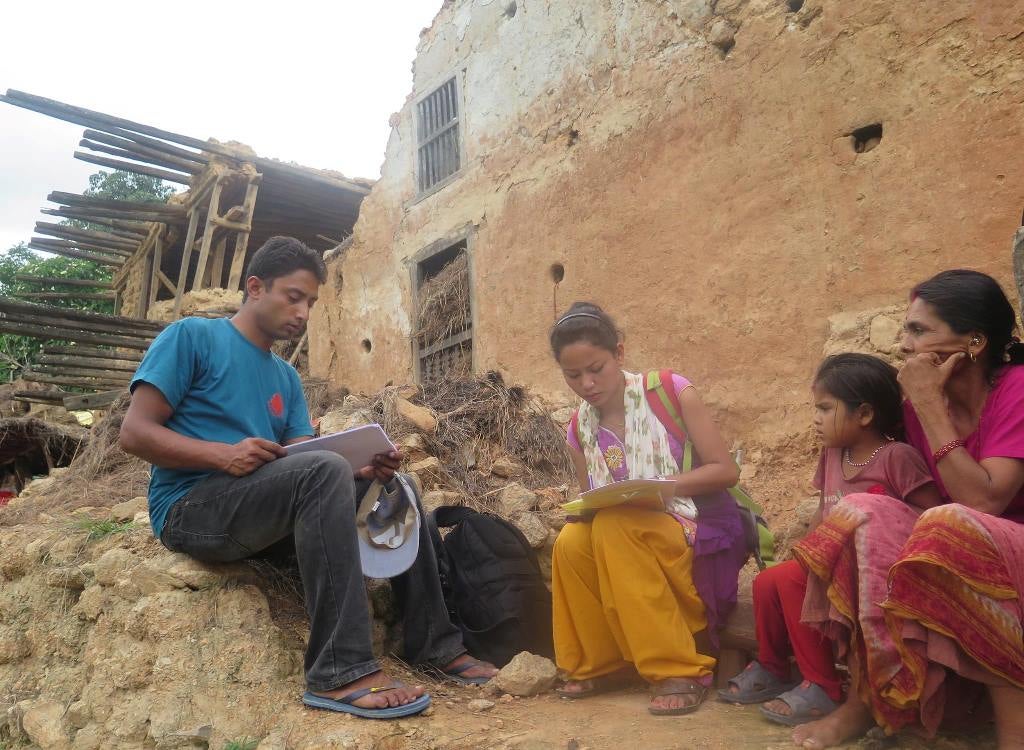 Visiting around 30 villages, meeting around 700 earthquake survivors and supporting them in whatever way he could during almost three months since the devastating earthquake struck Nepal on April 25 is no mean feat for Janak BK. "Although we have less social power than political leaders and full-time social workers, young people have an important role to play in emergencies," says the 24-year-old.
BK is among dozens of other members of youth networks supported by UNFPA, the United Nations Population Fund, in Sindhuli district whose contributions have helped families and communities cope with and recover from the crisis. The Fund roped them in immediately after the earthquake to help better coordinate its life-saving responses on the ground and improve the reach and effectiveness of its relief work. "Being a responsible member of the UNFPA-supported Youth Network I felt I had a responsibility to the earthquake survivors," says BK. 
"When the earthquake struck Nepal, one thing that immediately came to my mind was a desire to reach as many as affected villages in my home district and offer people the support I could," he says. "Luckily, nothing happened to my family members so I could think of others affected by the earthquake," he says. Ignoring cracks over all his house, he visited three of his neighbours' houses that had collapsed completely and provided the families with three tarpaulins that were stored in his home for other purposes.
A vital contribution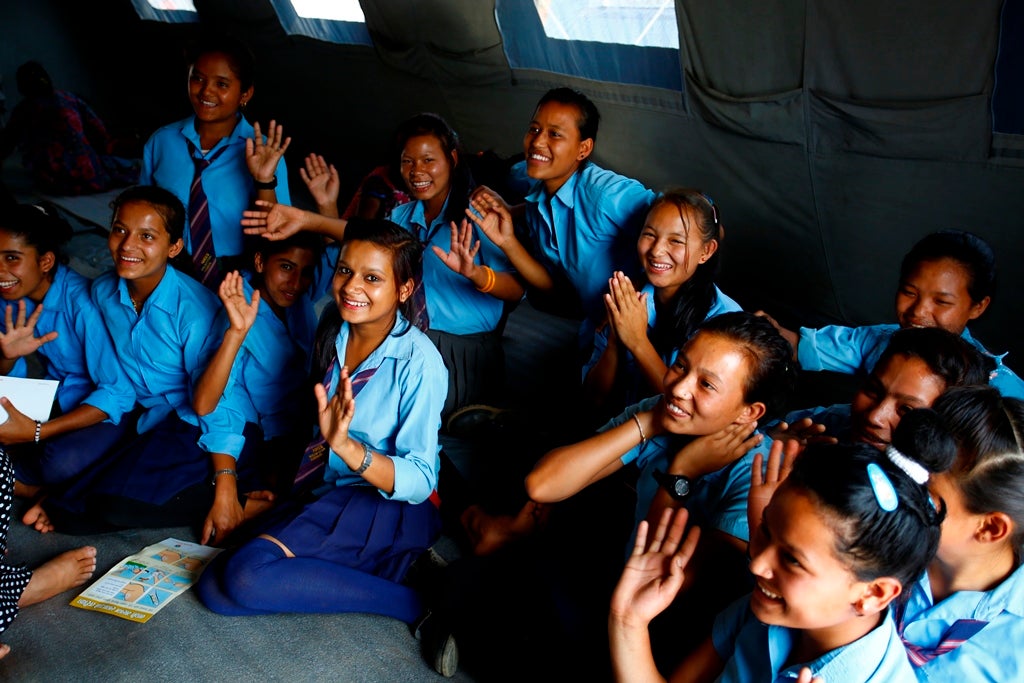 Youth in Nepal have played a crucial role in responding to the earthquake, from clearing rubble to mobilizing their networks to support relief efforts and providing emotional support. Many young people have been affected by the earthquake in one way or the other, especially in districts outside the Capital city. 
UNFPA has been engaging them, including those affected by the earthquake, to provide dignity kits to women of reproductive age, support provision of reproductive health services, create awareness on the special needs of women and girls, prevent and respond to gender-based violence and help Nepal recover. "Their participation in rescue and relief work was very encouraging," says Mahendra Prasad Paudel, Under-Secretary at the Ministry of Youth and Sports, a key government partner for UNFPA in Nepal.
The fact that young people made significant contributions and responded spontaneously right after the earthquake has not remained hidden. Nepal's Prime Minister Sushil Koirala, Minister for Youth and Sports Purushottam Paudel, Minister for Health and Population Khagaraj Adhikari and others publicly hailed the roles played by youth, especially their involvement in life-saving work and relief distribution. 
"Some members of youth networks called me soon after the earthquake, expressing their genuine interest to be part of UNFPA's emergency responses and we straightaway brought them on board," says Sanjay Sharma, UNFPA's district programme expert in Sindhuli district. "In the last two months they have promoted resilience in communities, enabled many earthquake survivors to cope with the aftermath of the disaster and have contributed to making relief more responsive to the most vulnerable groups such as women and girls."
Engaging for a cause
Engaging young people in preventing gender-based violence and other harmful practices including child marriage is one of UNFPA programmes going on in the districts it has been directly supporting. The devastating earthquake brought an added responsibility to the Fund, i.e. engaging them for a greater cause.
In the most-affected 14 districts, young people were mobilized in the areas where UNFPA-supported reproductive health camps were organized, dignity kits were distributed and female-friendly spaces were set up in coordination with the government, to make life easier for women of reproductive age. "We [members of the youth network] tried to bring as many as pregnant women, new mothers and adolescent girls, including those from rural areas, to the camps and the designated places where they could receive reproductive health services and dignity kits respectively," says a female member of the network and BK's co-worker, Gita Achhami (21).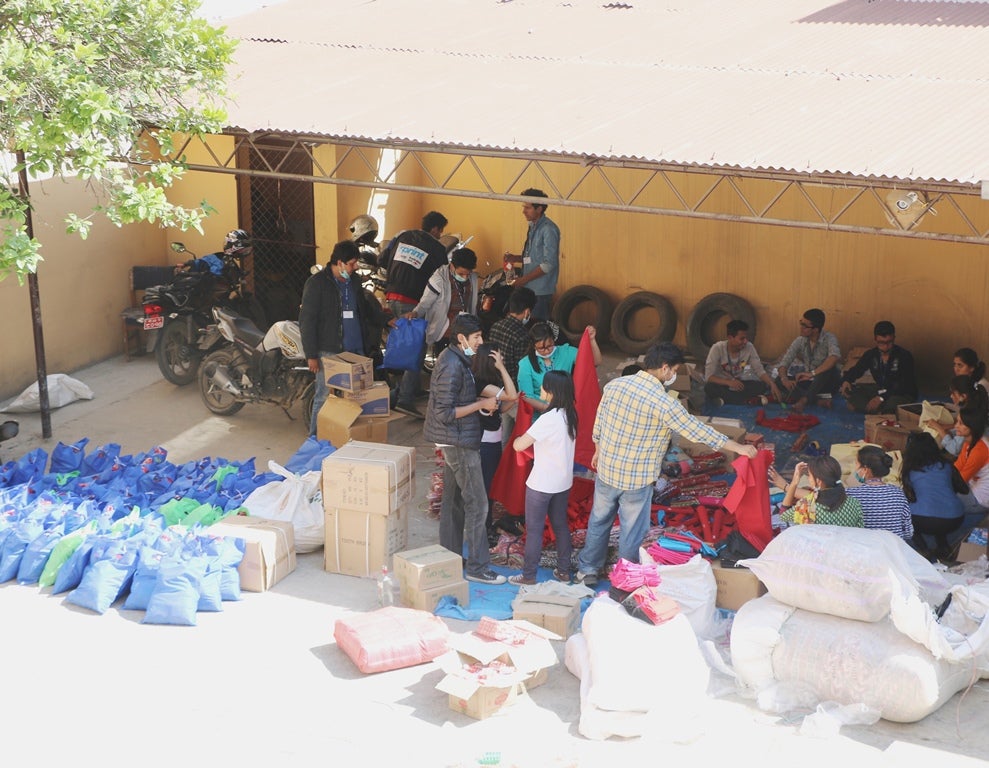 Their engagement is not confined to the field. Many young people were called in to pack dignity kits on the premises of the UNFPA Country Office few days after the earthquake. Ruchi Karki (19) was one of them who volunteered for three days. "Becoming a volunteer to bundle UNFPA dignity kits into bags was a rewarding experience and also a great moment as these essential supplies were for women's wellbeing and safety."
The other who were mobilized in the fields to help the survivors are also all smiles. "So many people were badly affected by the earthquake but I am OK, so I want to help those in need," says Nisha Shrestha, a particularly dynamic volunteer at the UNFPA-supported mobile reproductive health clinic in Dhunche, Rasuwa District.
"Their contributions in the reproductive health camps mainly in bringing needy people from far-off villages, maintaining registrations, managing queues etc. were very praiseworthy," says Gujeshwor Lal Shrestha, the government's District Health Officer in Sindhuli. Two key government partners -- District Health Office (DHO) and Women and Children Office (WCO) -- organized eight reproductive health camps with support from UNFPA and distributed dignity kits in 45 villages of Sindhuli district alone.
In one of the remote villages in Nuwakot, another district hard hit by the earthquake, Prakash Shrestha (22) spent two entire days volunteering at a UNFPA-supported reproductive health camp, organized by the local health authority with the Midwifery Society of Nepal (MIDSON). "I could also volunteer at the three other camps in the district, courtesy of MIDSON and UNFPA," he says. Such camps offer life-saving services, psychosocial support and reproductive health education sessions for women and girls affected by the earthquake.
"UNFPA timely mobilized young people. As a result of this intervention, more pregnant women and new mothers received reproductive health services and dignity kits," says WCO Officer Krishna Gurung. "They [young people] also offered a hand in prevention of gender-based violence," she adds.
UNFPA also mobilized 42 enthusiastic young people affiliated to various youth organizations to collect primary data related to the impact of the earthquake on human development from 400 affected families in six most affected districts. This exercise was part of the overall Post Disaster Needs Assessment conducted by the National Planning Commission in collaboration with sectoral ministries and external development partners. 
"It taught me how to extract complex information, such as income, damage, inequality, human suffering, etc, from a quick household survey," said Prabina Duwal, a young researcher from Bhaktapur District. "At times, the experience of listening to people's helplessness was traumatic," admitted volunteer from Sindhuli, Sudip KC, adding that in the end, it was "a rare opportunity."
Brushing their skills

As part of communicating with the earthquake affected communities, UNFPA trained 75 members of Nepal Scouts that has more than 57,000 volunteers, most of them young, all across Nepal with around 60 percent from the most affected districts. Keeping in mind the increasing risks of several forms of violence which many displaced women and girls are facing in the current situation, the training was, among other things, on enhancing their skills and knowledge to prevent and respond to GBV.
"The orientation was a real eye-opener. We had already heard about a few cases of rape in camps and sexual violence in camps. Following this orientation, we feel better equipped to tell women and girls how they can protect themselves from GBV," says Preena Khanal (23). She was a Scout volunteer assigned to roam three most affected districts.
In some of the reproductive health camps that had special adolescent-friendly corners, health educators, trained by UNFPA, provided age-appropriate health information, education and care to young people, including lessons on STIs, gender-based violence and other issues. Many of the adolescent girls are more comfortable discussing their concerns and questions about hygiene, security, and health in these safe spaces. "Sometimes at school, the teachers are men and it's not the same," says Shrestha, who is in her late 20s.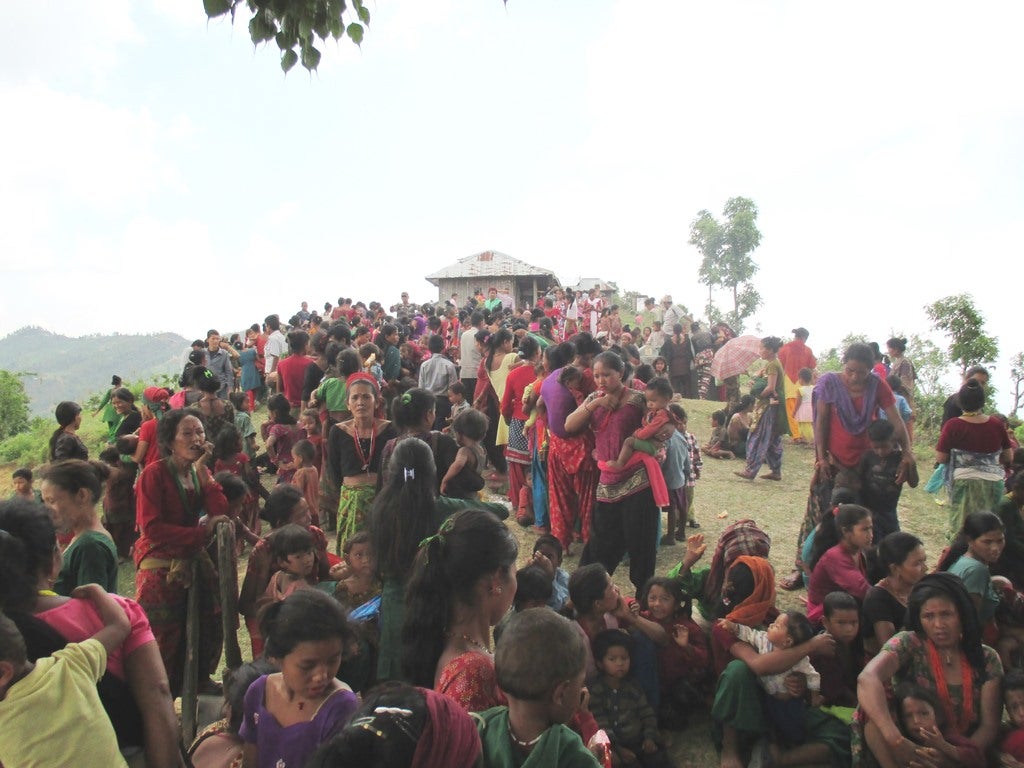 UNFPA also organized orientations in several most affected districts. "Such sessions mostly focused on informing adolescent girls about the legal age of marriage, four major causes of HIV transmission, temporary family planning methods, consequences of early pregnancy and child marriage," says Giri Panthi, UNFPA's senior national staff who was temporarily redeployed to one of the hubs in northern Nepal immediately after the earthquake.