Adapting to the global pandemic has not been without its challenges for young people of Nepal, but for 16-year-old Kalpana Bhatt, who lives in Sudurpaschim Province in Bajhang district, it's all about staying informed.
Kalpana is a comprehensive sexuality educator (CSE) or Saathi – friend – who, with the help of her teacher Khagendra, came up with the idea of forming a friends' circle, to counter the confusion and misinformation during the early days of the COVID-19 outbreak. "I called my teacher and discussed the idea with him. My friends were scared by the pandemic news, they had locked themselves in their homes and were not going to school," says Kalpana. Anxieties were also heightened as migrant workers from India began to return home.
To prepare for the first meeting, Kalpana looked at the CSE resources that she had taken from the Adolescent Friendly Information Corner (AFIC) at her school, including a comic book and information on child marriage and gender equality. Together with her friends Sita and Lalita they sent out invitations to students and parents for the first meeting, which was held outside their school – with physical distancing observed: "We wanted to spread awareness rather than fear," Kalpana adds.
Kalpana is one of 174 CSE Saathis in 87 schools across five districts of Nepal who are receiving CSE at school, under a four-year UNFPA-supported programme with funding from Australia's Department of Foreign Affairs and Trade (DFAT). Working with government and non-government partners, UNFPA has trained a cadre of teachers and set up Adolescent-Friendly Information Corners (AFIC) in schools to ensure young people receive age-appropriate information and knowledge about life skills and develop self-esteem and confidence to enables them to make appropriate and healthy choices in their lives, as well as lead others to do the same.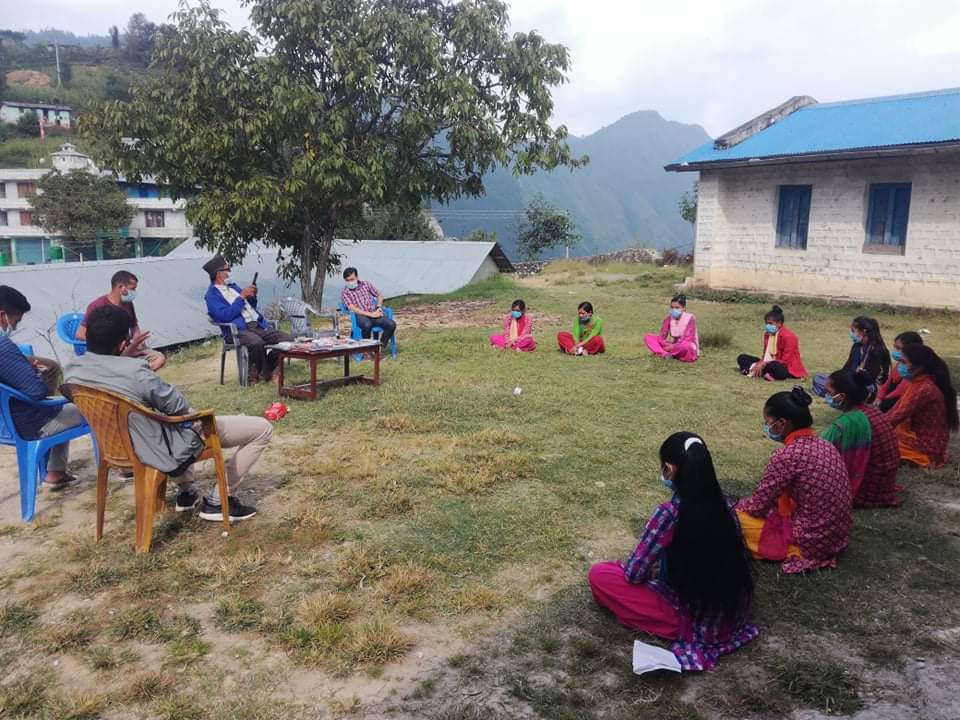 The first friends circle meeting went well; Kalpana and her friends say they felt 'energised'. They also used it as an opportunity to teach girls how to make their own sanitary pads, as these had become increasingly unavailable with the closure of markets, and how to manage their menstrual hygiene – with the support of Sunaulo Parivar Nepal, one of UNFPA's implementing partners, and the teachers coordinating the program.
While times have been tough for Kalpana, being a CSE Saathi has given her drive and a sense of purpose and satisfaction. She's learning new things and making new friends as well. "I have been taking the lead in so many activities in my community, both through the CSE programme and outside of it; my focal teacher has certainly helped me and supported every activity that my friends and I have planned."
Since the start of the pandemic, Kalpana and many young people in Nepal, have been devising new ways to ensure that adolescent girls and young people continue to learn about gender norms and their sexual and reproductive health and wellbeing, including menstrual hygiene, while mitigating the spread of the virus. And as the longer-term impacts of the COVID-19 crisis unfolds, UNFPA will continue to invest in their resilience and ability to innovate, and make an effort to put them at the centre of the commitment to build forward better.