KATHMANDU — "It was one of the happiest moments of my life," says Prasansha Budha Lama, recalling the day when she passed the first licensing exam of professional midwives conducted by the Government of Nepal in 2020.
Together with Lama, Nepal has 23 professional midwives in the whole country as of now. In January 2020, the first cohort of midwives graduated from the National Academy of Medical Sciences (NAMS). "Now I am eager to get into full action to improve maternal healthcare," says Lama. 
When COVID-19 shut services down in March 2020, she and two of her colleagues Rukumani Tripathi and Sabita Khadka set up an emergency hotline for pregnant women and lactating mothers who were anxious and who could not access health facilities due to the disruption in services as a result of the COVID-19 pandemic. They provided information and counselling to more than 2,900 women, including pregnant women and lactating mothers. The midwives not only provided advice and referrals, but also developed special remote services to help women cope with anxiety.
"We enrolled women who were very anxious in sessions on gentle birth techniques," Lama says. They visited some pregnant women to educate and make them and their families more aware about pregnancy danger signs, birth preparedness and complication readiness plans. "These efforts aimed to prevent delays in seeking and reaching health facilities and ultimately helped reduce maternal mortality and morbidity," she adds.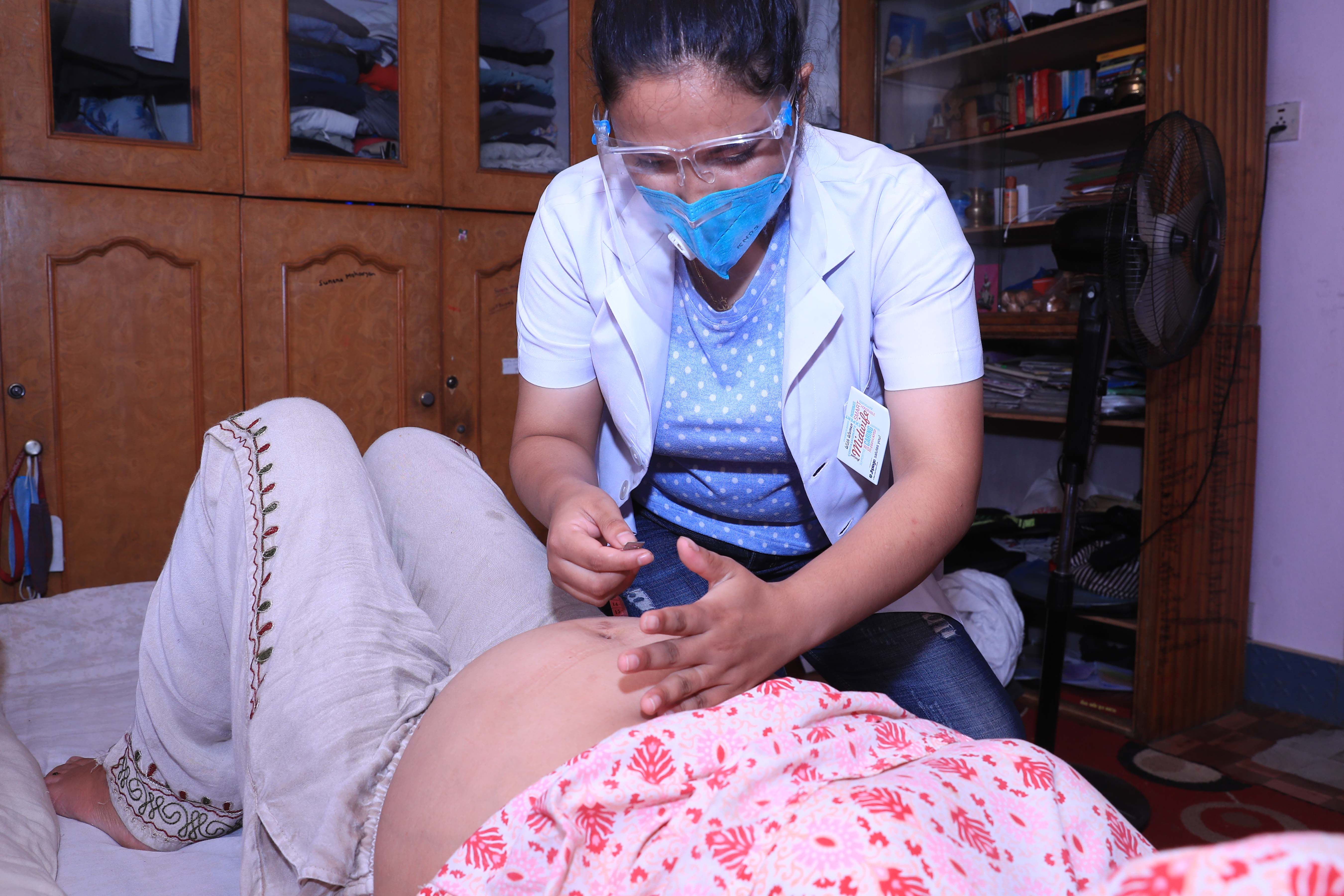 Most maternal deaths in Nepal are entirely preventable. "In the countries that have midwifery education, well-trained midwives have saved lives of women and newborns, thus reducing maternal and infant mortality rates," says Dr. Laxmi Tamang, President of the Midwifery Society of Nepal (MIDSON), a close partner of UNFPA in Nepal.
The Government of Nepal introduced the Bachelor's degree in Midwifery for the first time in 2016. So far the NAMS, Kathmandu University and Karnali Academy of Health Sciences are running the courses. The government, however, is yet to come up with a midwives' recruitment and deployment policy.
"Nepal's health system urgently needs this policy. Now is the time to mainstream midwives," reiterates the MIDSON chair. UNFPA has been working closely with the Ministry of Health and Population and other partners in advancing midwifery education since 2009.
In a country like Nepal where the maternal mortality rate is still 239 in 100,000 live births, one of the highest in the Asia Pacific Region and stagnant for a decade, accelerating the number of professional midwives is key to reducing maternal deaths below 70 per 100,000 live births by 2030 in line with the Sustainable Development Goal target, yet limited resources have been allocated to midwifery education, and maternal mortality is still not recognized as a major public health issue, which has been significantly impacted during the COVID-19 pandemic.