UNFPA: Delivering a world where every pregnancy is wanted,
every childbirth is safe and every young person's potential fulfilled.
1 December 2017
Uphold the Right to Health for All to End AIDS by 2030
Statement of UNFPA Executive Director Dr. Natalia Kanem for World AIDS Day 2017 One new HIV infection is one too many – and in 2016 there were 1.8 million. In adopting the Sustainable Development Goals, the international community committed to ending AIDS by 2030. This will only be achieved by ensuring everyone's right to
26 November 2017
Commit to ending gender-based violence by 2030
By helping the furthest behind first, UNFPA is also helping to rectify other dimensions of inequality, as described in our latest State of World Population report, "Worlds Apart: Reproductive Health and Rights in an Age...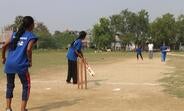 The family planning national programme profile of Nepal (as of 6 July 2017) provides an...
The Social and Financial Skills Package (SFSP) contains 15 modules. The package aims at...