UNFPA: Delivering a world where every pregnancy is wanted,
every childbirth is safe and every young person's potential fulfilled.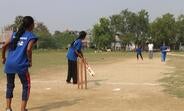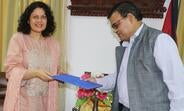 6 October 2017
Deputy Prime Minister Mahara receives credentials of new UNFPA Representative
KATHMANDU, 6 October 2017 —Hon'ble Deputy Prime Minister and Minister for Foreign Affairs Mr. Krishna Bahadur Mahara today received the Letter of Credentials of Ms. Lubna Baqi, the new Country Representative of UNFPA, the United Nations Population Fund, for Nepal. Amid a special event organized by the Ministry of Foreign
The family planning national programme profile of Nepal (as of 6 July 2017) provides an...
The Social and Financial Skills Package (SFSP) contains 15 modules. The package aims at...