Ensuring rights and choices for all
10 December 2019
Youth Standing up for Human Rights
Let's advance rights and choices for all by supporting youth activists, youth networks and youth organizations, amplifying the voices of young people as transformative agents of change.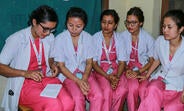 1 December 2019
Communities make the difference
By harnessing the power of community, we can close the gaps in HIV prevention and response and end the AIDS epidemic by 2030. United in this decade of action for the Sustainable Development Goals, let's make it happen!

Every year, people across Nepal are subjected to violence, poor health outcomes, and...

Harmful practices can be defined as persistent behaviours that discriminate on the basis...