Ensuring rights and choices for all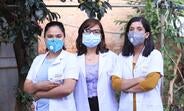 5 May 2021
Trust the evidence: invest in midwives
Midwives deserve greater investment in their capabilities, and workplaces that empower them and fully acknowledge their skills and contributions.
18 March 2021
छोरीलाई भन्दा छोरालाई बढी प्राथमिकता दिने कुसंस्कारको अन्त्य गरौं
नेपालमा जन्मदाको लिङ्ग अनुपात असन्तुलन देखिएको छ । यस अवस्थाको तीन मुख्य कारक — घट्दो प्रजननदर, लिङ्ग पहिचान प्रविधिमा सहज पहुँच र छोरीलाई भन्दा छोरालाई बढी प्राथमिकता दिने कुसंस्कार — हुन् ।  अध्ययनले जन्मदाको लिङ्ग अनुपात असन्तुलन मुख्यरुपमा १२ वटा जिल्लामा स्पष्ट देखाएको छ । त्यहाँ महिलालाई छोरा नै जन्माउन पर्दछ भनेर उच्च

An equal and inclusive society demands inclusion of voices from all paths. The United...

Nepal has been identified as a country with a strong preference for son ever since the...