RAUTAHAT – Just minutes after Sunita Sah put her twins to sleep inside her thatched mud-and-straw house, raging floodwaters entered her village. "Run, run," were the shouts the nursing mother heard. "At first, I had no idea what was going on," says the 22-year-old. "My mother-in-law ran into the room from the courtyard and told me to grab both the twins and stand up."
In no time at all, the floodwaters were almost waist high. "More than my own safety, I was worried about my babies," said Sunita. The Sah family didn't want to risk wading through the flooded pathways to take the twins to higher ground. Instead, they put a wooden bedframe on top of another where Sah and her babies stayed until the floodwaters receded at Rajdevi Municipality-4, Rautahat.  
While engaging in a frantic effort to save household belongings, most of their clothes, including those of the babies and their mother, were soaked by muddy water. "I had very few spare clothes left," Sah recounts.
Meeting reproductive health, hygiene and safety needs
More than 200,000 people were affected after incessant monsoon rains from 11-13 July resulted in flooding and landslides, particularly in southern, eastern and central Nepal. Almost 10,000 family homes were inundated or isolated by the floodwaters. An initial rapid assessment report, however, is still due. Areas bordering India were particularly hard hit, as the torrential downpour caused mighty rivers and their tributaries to burst their banks.
In Sah's district alone, around 70,000 people were affected by the floods. UNFPA, in response, started working with the government-led mechanism, represented by different state and non-state actors that coordinate disaster preparedness and response at the local level, to provide humanitarian support.
Local authorities said that the lack of security for women and girls in the temporary shelters was a concern. In such situations, the risk of gender based violence is much higher. Ensuring protection mechanisms are in place and reproductive health and hygiene supplies and services are available for women and girls in the aftermath of a natural disaster is a priority for UNFPA, the UN's sexual and reproductive health agency.
"I am happy to have clean clothes," says Manita Devi Paswan, six months pregnant, after sifting through the Dignity Kit bag she received from UNFPA. "Just look at the sari I am wearing now. It is covered with muddy floodwaters." She was not able to change her clothes or bathe for three days. "I feel quite uncomfortable". Her family, among almost 3,000 affected families in Sarlahi, lost their home to the floods.
Thousands reached
In the aftermath of the floods, UNFPA supported the District Disaster Management Committees and local governments to assess the situation on the ground, collect relevant data and identify pregnant women, nursing mothers and adolescent girls among the affected population.
As of 30 August, over 6,500 women and girls have been provided with Dignity Kits, each containing hygiene supplies for two months. A total of 1,400 Dignity Kits were supplied, with the support of the Australian government and UNFPA's Humanitarian Action Fund.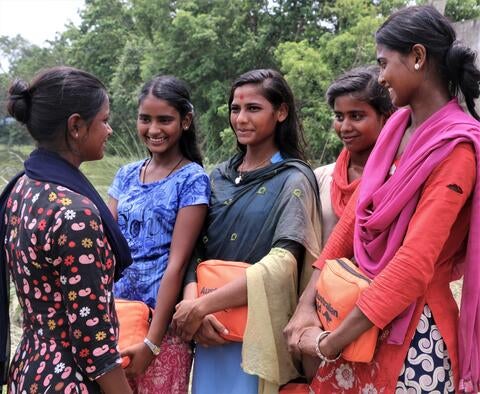 "The reusable sanitary pad I found inside the bag together with other items are a great help to me," says Neha Kumari Sah (15) who came to receive the Dignity Kits with her friends from the affected community.
With UNFPA support, three Women Friendly Spaces were also established in Rautahat, Sarlahi and Mohattari — the most affected districts in Province 2 following requests from the local governments. These spaces offered women and girls a safe place to seek support, receive information and participate in recreational activities.
The reproductive health, hygiene and safety needs of women and girls are often overlooked in the aftermath of a disaster, as authorities rush to meet food and shelter needs. UNFPA is still on the ground supporting the affected women and girls in partnership with other humanitarian actors and building capacities of local authorities for disaster preparedness and response.
(Santosh Chhetri)