KATHMANDU, APRIL 24 — Any humanitarian response to future crises in Nepal as well as preparedness efforts must go beyond the immediate need for essential items such as food and shelter, says a study on the socio-demographic impact of the 2015 earthquake.
The study, commissioned by the Population Division of the Ministry of Population and Environment and carried out by the Central Department of Population Studies, Tribhuvan University with technical and financial support from the United Nations Population Fund and the International Organization for Migration, calls for special attention to the needs of women and girls including family planning, safe motherhood, as well as prevention of and response to gender-based violence.
Women and girls, particularly those who were pregnant faced special problems and additional burdens while living in temporary shelters following the 2015 earthquake. Therefore they needed to have access to services such as those provided through female-friendly spaces and supplies to protect their dignity, health and safety in a post-disaster setting. Noting that senior citizens and people with disabilities suffered more physical injuries than other groups because of their limited mobility, the study also calls for building infrastructures that take into account their specific needs.
While releasing the report on 29 March 2017, Minister for Population and Environment Jay Dev Joshi called for the need to build the capacity of community members to enable them to be early responders. This is especially important in remote areas, for disaster preparedness and rescue operations, ensuring the maximum possible participation of women and young people.
Commenting on the report, UNFPA Country Representative for Nepal Giulia Vallese said, "Cost-effective policies on disaster mitigation, preparedness and recovery and building strong health and protection systems that can save the lives of the most vulnerable is essential. This should include empowering communities and building their resilience to natural disasters.
While the Post Disaster Needs Assessment (PDNA) conducted by the National Planning Commission immediately after the earthquake had assessed primarily the damages of houses and buildings, it did not fully focus on the socio-demographic impact on communities, their resilience and ability to respond, and how recovery and reconstruction efforts could be more responsive.
In order to fill this gap, the ministry commissioned the study with a special focus on cultural diversity including caste and ethnicity, population dynamics such as fertility, mortality and migration as well as population size, composition, and distribution. Using multiple approaches and both quantitative and qualitative techniques, the study included 3,000 households (14,987 people — 7,419 males and 7,568 females) from the 14 most affected districts as well as focus group discussions and key informant interviews.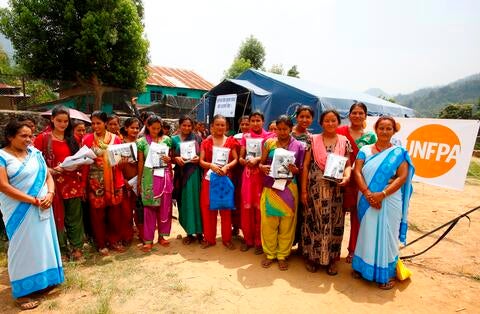 Key figures from the study:
Tamang (26.3%) and Chhetri/Thakuri (18%), followed by Newar and other Hill Janajatis were most affected by the disaster. These percentages are different from the national average given that the earthquake particularly hit mid-hills and mountainous areas.
More than half of the households (51.5%) in the 14 districts most affected by the 2015 earthquake did not have any food in the evening of 25 April, the day when a devastating 7.8 magnitude earthquake struck Nepal.
The earthquake affected 65 percent of the working age population aged 15-59 years in the 14 most affected districts as well as 25 and 11 percent of the dependent population below 15 and above 60 years of age respectively.
Approximately 84 percent of the earthquake-displaced people, in the 14 most affected districts, moved from their place of origin to different villages.
Among the earthquake-affected married women aged 15-49, 6.8 percent experienced a gap in availability of health services while 93 percent were satisfied with the available health services. Approximately 80 percent had access to information related to reproductive health, including family planning.
ANC visits decreased by 7 percent following the earthquake. Such reduction was higher (13.3%) in the Kathmandu Valley compared to crisis-hit areas (5.7%).
More deliveries took place in birthing centers after the earthquake. While 55 percent of women had delivered in a birthing center before the earthquake, the percentage increased to 72 after the disaster. Home deliveries decreased from 43 to 21 percent.
After the earthquake struck Nepal, nearly one in five (18.3%) married women of reproductive age, in the 14 most affected districts, was planning to postpone the next birth by at least one year.
Read or download a Summary of Nepal Earthquake 2015: A Socio-Demographic Impact Study here
Read or download the full report of Nepal Earthquake 2015: A Socio-Demographic Impact Study here