Manmati Tailor is a 18-year old girl who is devoting her energy to fight for the rights of adolescent girls in Far-Western Nepal. While listening to stories of trafficked women, adolescent girls and children on FM radio stations operating in her own district of Baitadi, she used to think that the government was not doing enough to combat human trafficking.
"Even though none of the women and girls from my village have been trafficked, news of girls from other places being forced into sex trade in India and rescued from brothels has made a deep impression on people in my community. Whenever I would hear such news from FM radios, teachers and seniors, I would even bitterly complain about the authorities not doing their jobs," says the chairperson of the Adolescent Girls' Circle in Hatairaj, supported by the District Women and Children Office, Baitadi, and UNFPA, the United Nations Population Fund. Her perception, however, has changed now.
"When I learned that I had been selected to attend a Roundtable Discussion on young people in Bangkok, the entire village warned my parents that I could be trafficked. My parents and my brother, currently living in Kathmandu, were also afraid and had to be reassured by UNFPA staff about my safety."
When she reached Tribhuvan International airport, she was impressed by the way she was grilled by the airport officer "First, he asked me questions such as 'why are you going to Thailand, who is going together with you, who is sending you?' The official was not easily reassured, and continued questioning her: "I was also asked to explain what I do, my qualifications, family members in my house and their profession, the places I have visited outside Nepal, and so on." Manmati confidently described the reason for her trip and the context around it. Meanwhile, she was quietly internalizing – and indeed appreciating – the reason for the questions, and the diligence of the officer in asking them.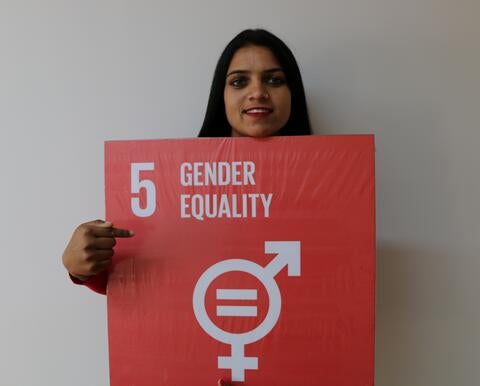 "The officer smiled at me when I told him that I work on raising awareness on trafficking back in my village," Tailor says. The girls' group she represents is one among 219 in five UNFPA-supported districts in the Far-Western Region, including 94 in Baitadi (as of 12 December 2016). The Women and Children Offices and UNFPA train members of these groups on life skills and support to end harmful practices in their communities. "When I told him that we do street dramas, sing Deuda, organize door-to-door awareness campaigns, hold interactions with adult stakeholders including police, priests, astrologers, shamans etc to prevent harmful practices, he was full of praise for our work."
Before her passport had a departure stamp, Manmati and the officer had a friendly exchange. "I asked him to be an advocate like me, albeit from a different angle and to encourage other government officials to keep a tight rein on comings and goings at the borders to prevent our sisters from being bought and sold as commodities into prostitution," says Manmati. "In reply to my remarks, he said that they are trying their best to close the doors to traffickers."
The commitment of this one officer may be a sign of how things are slowly changing. Efforts made by the Government of Nepal and partners to raise awareness about trafficking are slowly paying off. The US Department of State's annual Trafficking in Persons (TIP) report released in July this year placed Nepal in the second tier, signifying that the country is making progress towards combating this form of slavery. Continuing efforts are needed however.  
Airborne for the first time, Manmati was nervous when the plane took off. "I took a few deep breaths to calm myself down," she recalls. "When the plane stared flying straight I started recalling my conversation with the official and felt good. He has changed my perception that the government is not working to prevent human trafficking."