Events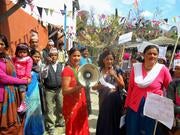 8 March 2018 - 8 March 2018
Global
International Women's Day, celebrated globally on 8 March, is dedicated to reflecting on the achievements of ordinary women who have made an extraordinary impact in their countries and communities, and to celebrate the contributions of women all around the world. The theme for this year's International Women's Day is "Time is Now: Rural and urban activists transforming women's lives". 
Details
1 December 2017 - 1 December 2017
Global
World AIDS Day is observed on 1 December every year. It aims to increase awareness of the disease, fight the stigma associated with it, improve HIV education and mobilize resources for the global response to the epidemic.
Millions of people are vulnerable to HIV infection, and AIDS remains a leading cause of death among women of reproductive age and young adolescents. Stigma and discrimination continue to impede the realization of people's rights, including access to essential information and services to prevent and treat HIV.
Details
25 November 2017 - 10 December 2017
Global
The UN observes International Day for the Elimination of Violence against Women on 25 November. This observance raises awareness of the continuing toll of gender-based violence.
A global campaign – the 16 Days of Activism against Gender-based Violence – runs from today until 10 December, Human Rights Day. This campaign spotlights the actions being taken to end this global scourge.
Details
Pages