Visiting the places that still bear the scars of last year's devastating earthquake and educating affected young girls and boys about issues related to sexual and reproductive health and rights (SRHR) was never going to be an easy job for young volunteers. Bound and determined, a bunch of peer educators, however, accomplished their mission at the end.
A peer educator during the needs assessment of internally displaced young people."Some of them living in tents were mentally and emotionally weak. So we were in a dilemma about how and where to start. Secondly, they felt so shy to listen to information about sexual and reproductive health and rights," says Pasang Sherpa, 22, a peer educator. "But we developed trust, mutual respect, and understanding. We shared the space with them, listened to their stories of pain and sometimes ate together, thus they gradually overcame their shyness and opened up."
Sherpa was among 45 peer educators from Y-PEER, Yuwa and Yuwalaya who went to 16 camps and more than 50 schools within the Kathmandu Valley during July-December 2015 as part of "Youth Leads in Emergency" - a youth engagement programme designed for young people aged 19-24 post-earthquake. With technical and financial support from UNFPA, the United Nations Population Fund, the three youth organizations implemented this innovative youth engagement initiative in collaboration with Restless Development.
The project took off in May 2015 with a month-long needs assessment of internally displaced young people by 50 trained enumerators in 16 government-established camps for internally displaced in the Valley. The assessment came to an end in June, during which enumerators did a mapping of youth-friendly service centers available so that they could refer young people if needed.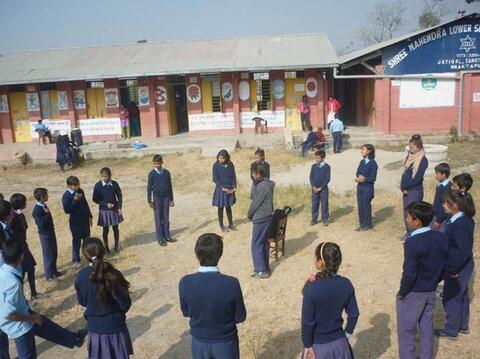 "The findings of the assessment helped us design youth-responsive interventions - peer-to-peer sessions, leadership training, life skill orientation classes and radio programmes," says Sangeet Gopal Kayastha, the international coordinator of Y-PEER that played the lead role among the three youth organizations. The three activities that started in July were conducted in each camp and school by the peer educators till December 2015.
"Many young people in the camps and schools attended the sessions listening attentively to the information we provided on adolescent pregnancy, unsafe abortion, menstrual hygiene, sexually transmitted infections (STIs), gender-based violence, access to safe and effective contraception methods and other sexual and reproductive health issues," says Pranita Shakya, a peer educator from Yuwalaya.
Like Shakya and Sherpa, Bhakta Singh from Yuwa was also part of the peer education and life-skills education programmes that they conducted together through 720 orientation sessions. Some of them were very precise in their questions and knowledge-sharing about how they are facing barriers to sexual and reproductive health information and care, says Sherpa. "During some of the sessions it was so encouraging to find some of them summarizing the information we'd aired via our radio programme 'Yuva Aawaj'."
The six-month period was a rewarding experience for all peer educators, who also helped the disaster-affected young people learn important life skills that can be applied in everyday life. "We hope that the around 15,000 young people that we were able to reach through our peer education, life-skills, leadership and GBV sessions will reach out to many other young people in their communities," notes Kayastha, who has been a peer educator and a youth advocate in Nepal for the last nine years.
The true spirit of volunteerism and an abiding passion to continue promoting SRHR and other youth-related issues was visible on the faces of the 45 youth advocates on 30 December 2015 when they were honored by UNFPA Representative Giulia Vallese during a sharing session and a celebratory function in Kathmandu.
UNFPA Representative Giulia Vallese honouring a peer educator. It's encouraging to see some great achievements brought about by the work of young people for other young people, she says. "Adolescents and youth remain a priority in UNFPA's advocacy efforts and programmes in Nepal too." At the event, the schools where peer education sessions were conducted were also provided with sports materials as a token of appreciation for their support.