A devastating earthquake shook Nepal on 25 April 2015 - the country's worst in almost a century.
The violent tremor, 7.8 on the Richter scale, was followed by numerous aftershocks including a major one on 12 May measuring 7.3. Nearly 9000 people were killed, according to official government figures, and more than 22,000 were injured. The lives of innumerable families and communities were shattered amid unprecedented devastation.
At the onset of any humanitarian crisis, relief organizations rush to meet the basic needs of affected populations by bringing in supplies, especially food, shelter and first aid.
But one aspect of relief remains far too often overlooked: the distinctive needs of women and adolescent girls. During natural disasters and humanitarian emergencies, women continue to get pregnant and give birth. Women and girls also require specific care and services.
When a crisis strikes, health facilities are destroyed or damaged, skilled birth attendance and emergency obstetric care often become unavailable, leaving pregnant women and new mothers in distress.
The risk of gender-based violence also increases for women and girls, as they may be left unaccompanied – out in the open or in temporary shelters – and vulnerable to abuse.
A natural disaster triggers trauma stemming from the loss of loved ones or loss of a home and belongings. Fears and anxieties also need to be healed to ensure a better recovery.
In Nepal, the United Nations Population Fund, UNFPA, along with implementing partners, targeted its support to the 14 most-affected districts, providing its trademark dignity kits and reproductive health supplies, establishing female-friendly spaces (FFS) conducting mobile reproductive health camps with a focus on remote areas, and offering psychosocial support services for earthquake survivors, including special training and information on preventing and responding to gender-based violence.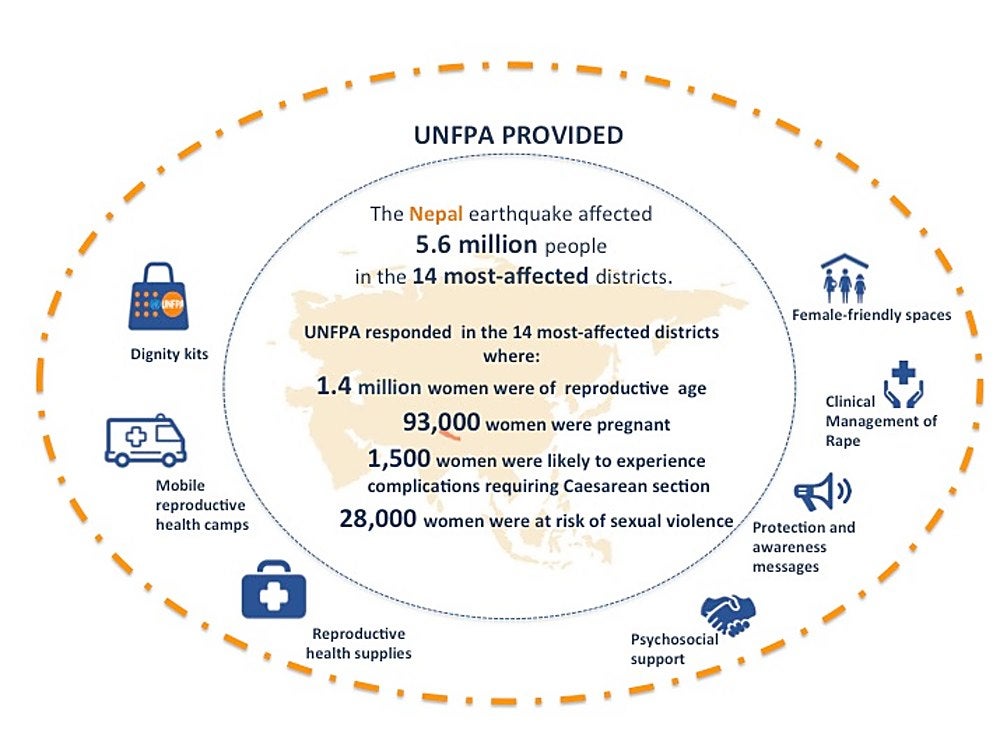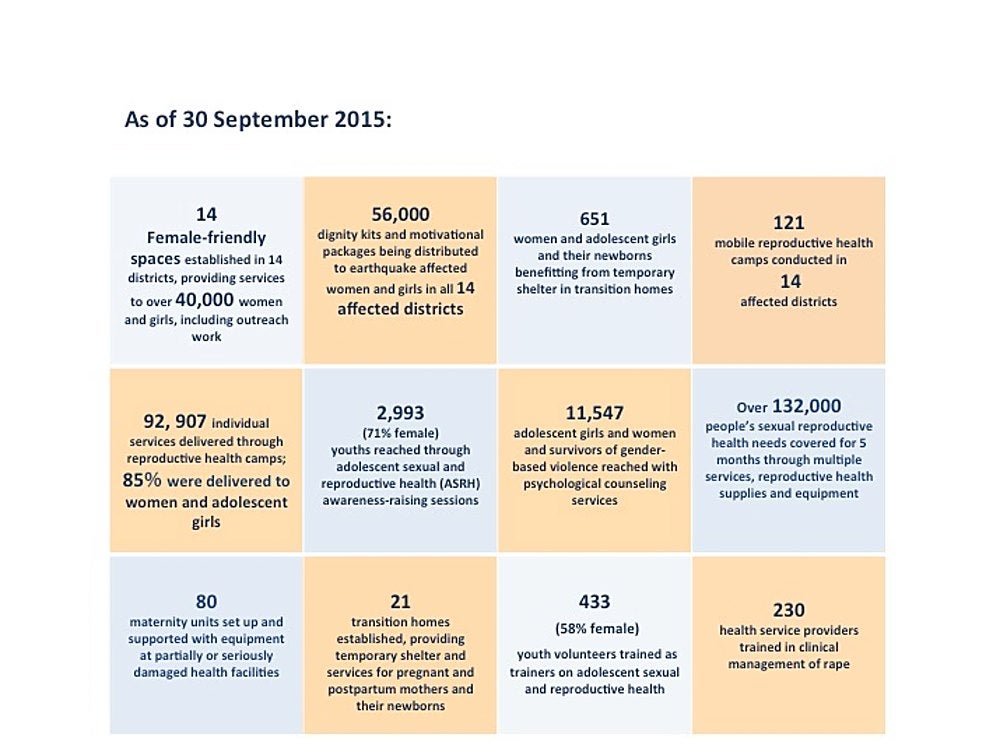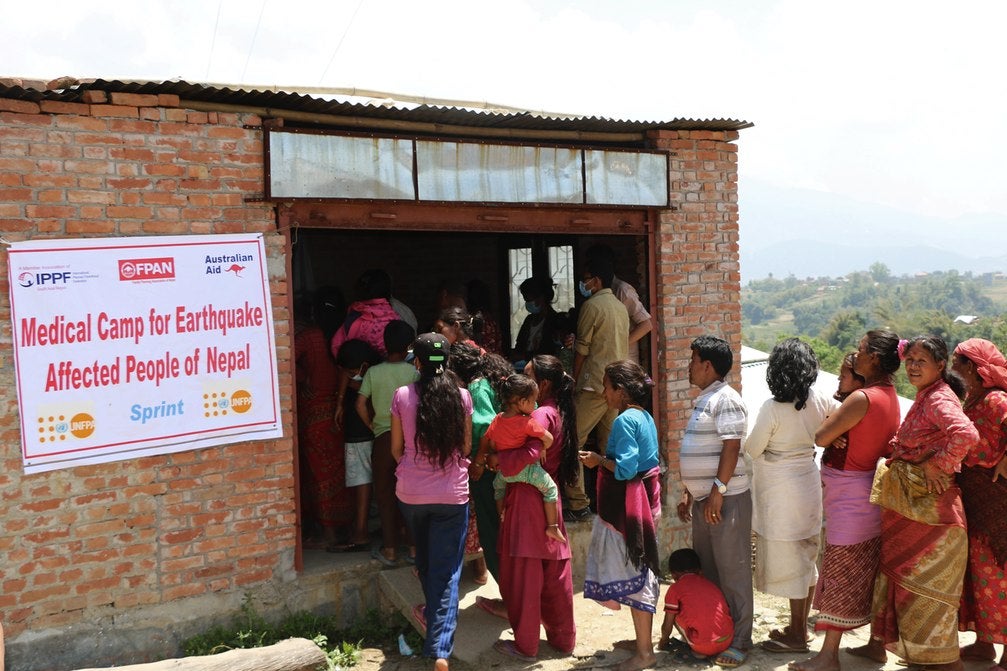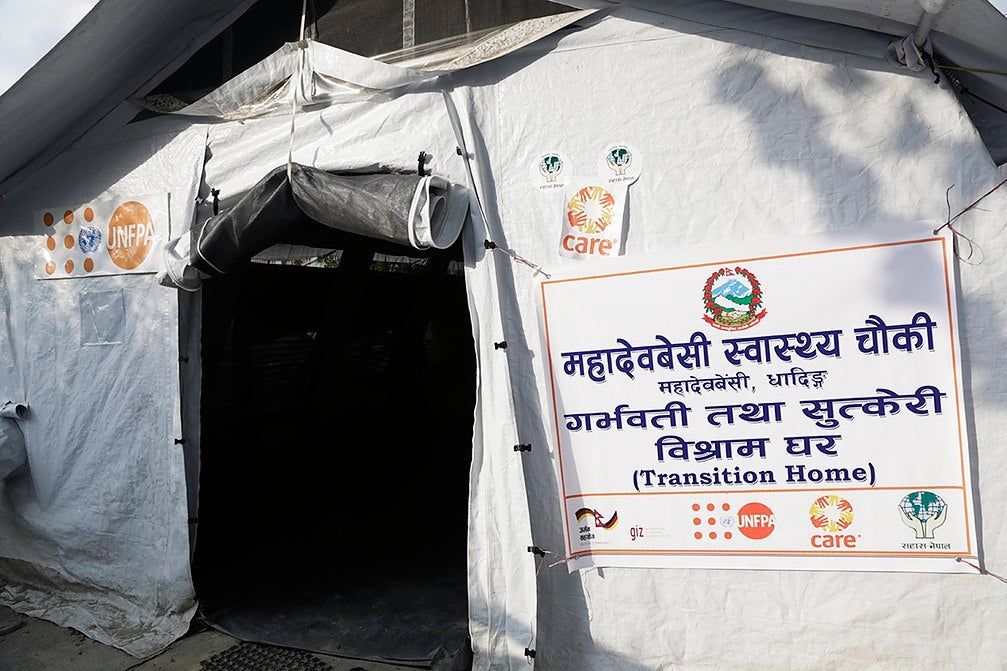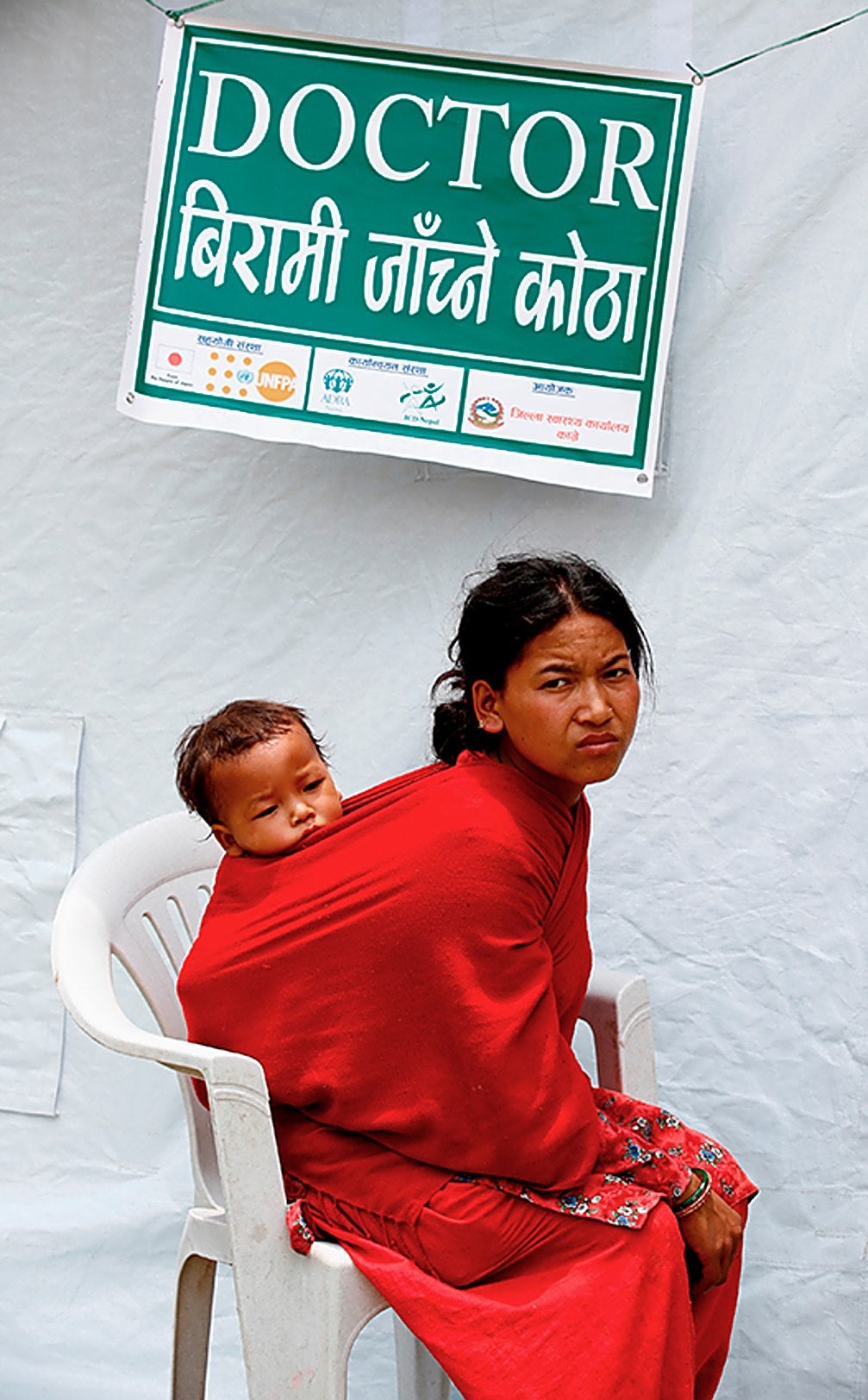 WHAT IS A DIGNITY KIT?
Dignity is a human right. It cannot be delivered in a "kit". 
That being said, there are things that can be provided that will help create an environment in which women and girls can maintain their dignity in a difficult situation. 
Women and girls are already among the most vulnerable, regardless of a crisis situation. Once disaster hits, a lack of access to hygiene items, especially menstrual hygiene, safety supplies and clothing can make a hard situation harder. 
In Nepal, the stigma associated with menstruation (menstruating women have even been known to be refused access to aid) means that menstrual hygiene supplies are among the first items women ask for. 
With a change of clothes and the ability to keep clean, women can feel more confident going out to access aid supplies and to participate in the rebuilding of their communities. 
With a flashlight they can feel safer venturing out after dark – to the bathroom, for example. 
Distribution of dignity kits is not a stand-alone activity – it must be accompanied by discussions, information-sharing, awareness-raising. 
The distribution of kits is an opportunity to meet and speak to women and girls, and to provide necessary information and better understand their concerns. 
UNFPA has taken this opportunity to provide information on protection – where to seek services in case of violence, what help is available, and also on reproductive health issues, such as the danger signs in pregnancy, and when and where to seek medical services. 
As of 30 September UNFPA had procured over 56,000 dignity and motivational kits for women of reproductive age in all parts of the 14 most-affected districts. 
The feedback has been overwhelmingly positive. Many women have cited the change of clothes as being the most useful – having lost everything, this made an enormous difference, they told us. Others have mentioned the sanitary supplies or the flashlight as being the most useful items.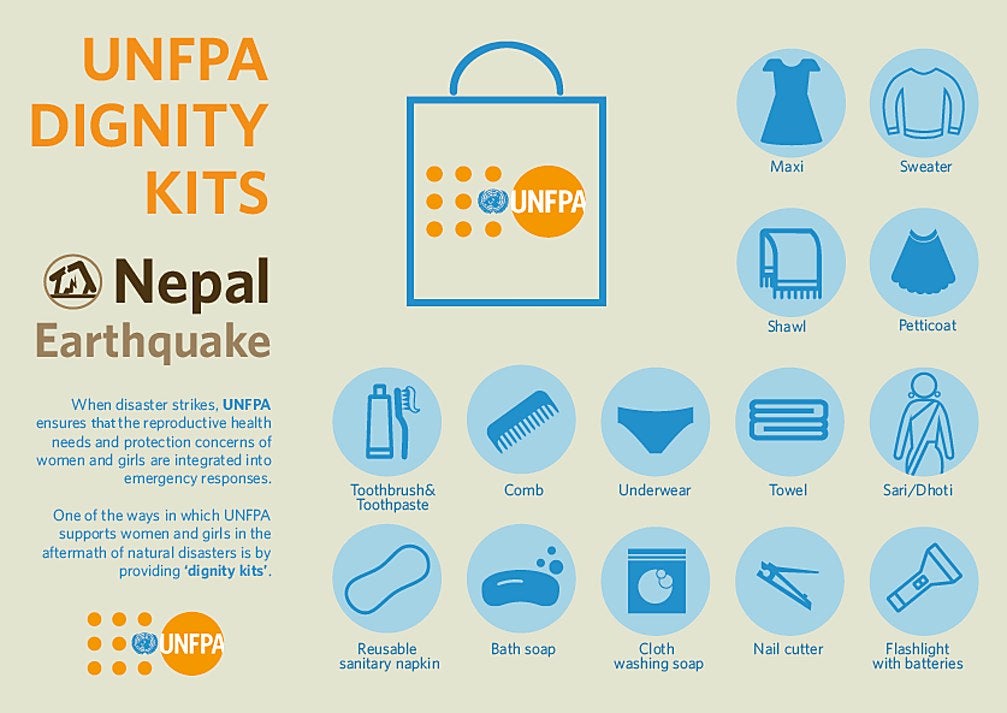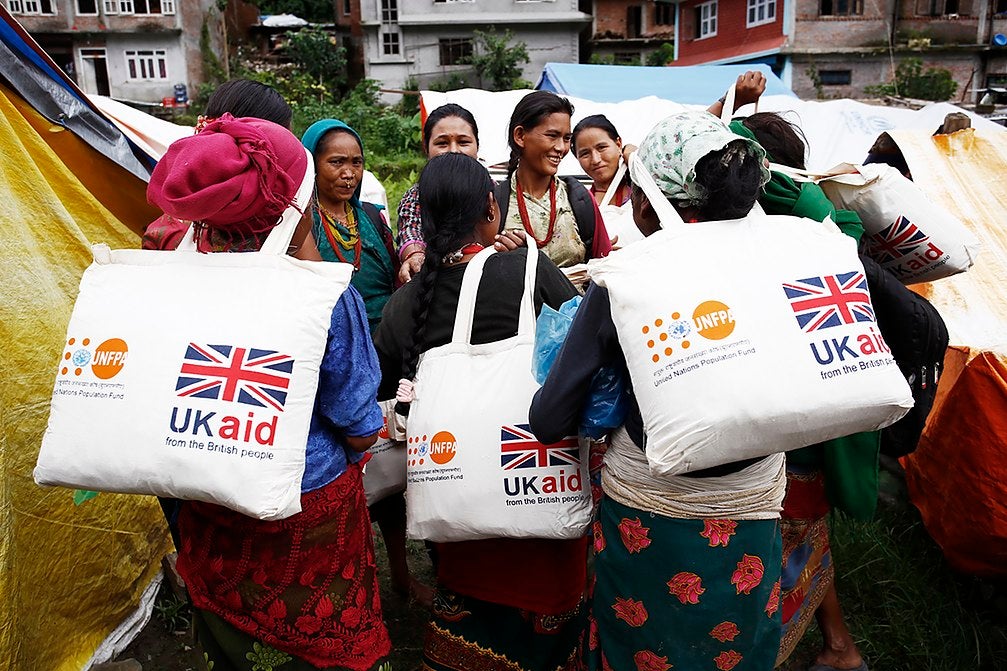 The following stories and pictures have been gathered with the consent of each person represented. All stories were documented between July and September 2015 and refer to data and information applicable at the time of collection.
ISHWORI DANGOL IS MORE THAN AN EARTHQUAKE SURVIVOR
Ishwori Dangol was in her seventh month of pregnancy when the earthquake struck Nepal on April 25. She lost her seven-year-old son to the disaster. In the midst of the pain and agony of losing their child, Dangol and her husband tried their best to stay strong in Betrawati, Nuwakot – one of the 14 districts most affected by the earthquake.
Ishwori spent the last months of her pregnancy in fear. The earthquake had damaged at least 70 percent of birthing centers in the 14 districts, including Nuwakot. The health post near her home was damaged as well, leaving pregnant women like her with limited or no access to the healthcare they needed for safe deliveries. Fortunately, a Female Community Health Volunteer (FCHV) informed Ishwori that a reproductive health camp was being organized in her village.
She visited the camp and had an ante-natal check-up. " The camp had services especially for pregnant women and also offered psychosocial support. I had an ultrasound and the doctor recommended a C-section". After being referred to the district hospital she safely delivered her baby, a healthy boy.
"My son's death has been the biggest tragedy of my life. I have had enough. Now I am finding strength to live a normal life again. I will continue to live this way and be a social worker in the future. I want to be much more knowledgeable than I am today and share my knowledge with other women."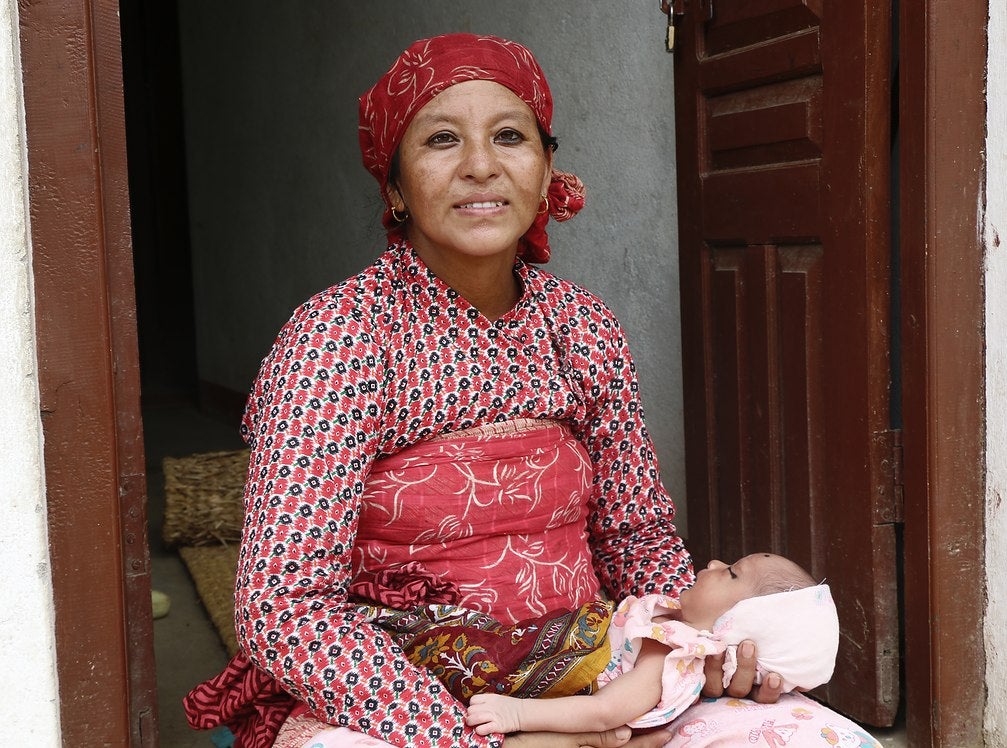 AN INSPIRED CASE MANAGER
Yamuna Bajracharya reacted immediately when the earthquake heavily damaged her hometown of Bungamati. A trained nurse, she was able to rush to the support of affected people with first aid and immediate care. Hoping to do more for her community, where over 800 houses had been damaged, she signed on to work as a case manager in one of UNFPA's female-friendly spaces . Combining her medical knowledge with a warm and engaging personality, Yamuna has proved to be a wonderful asset for the facility and for local women.
Since being employed in June, she has handled a wide variety of gender-based violence cases by referring them to hospitals, appropriated health care facilities or psychosocial counselors. She has also provided basic counseling, ensuring that the services of the female-friendly space were well coordinated with UNFPA's mobile reproductive health camps.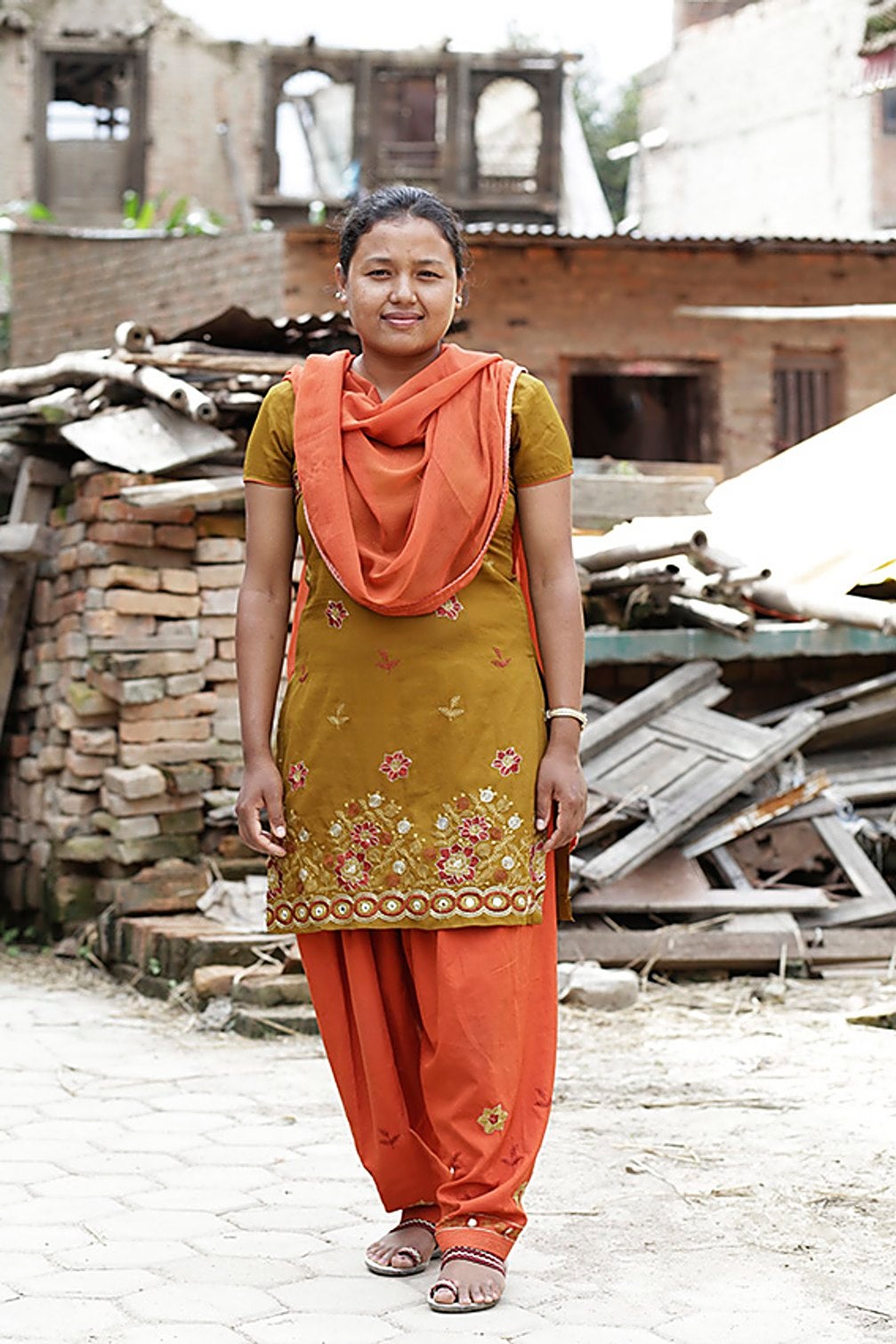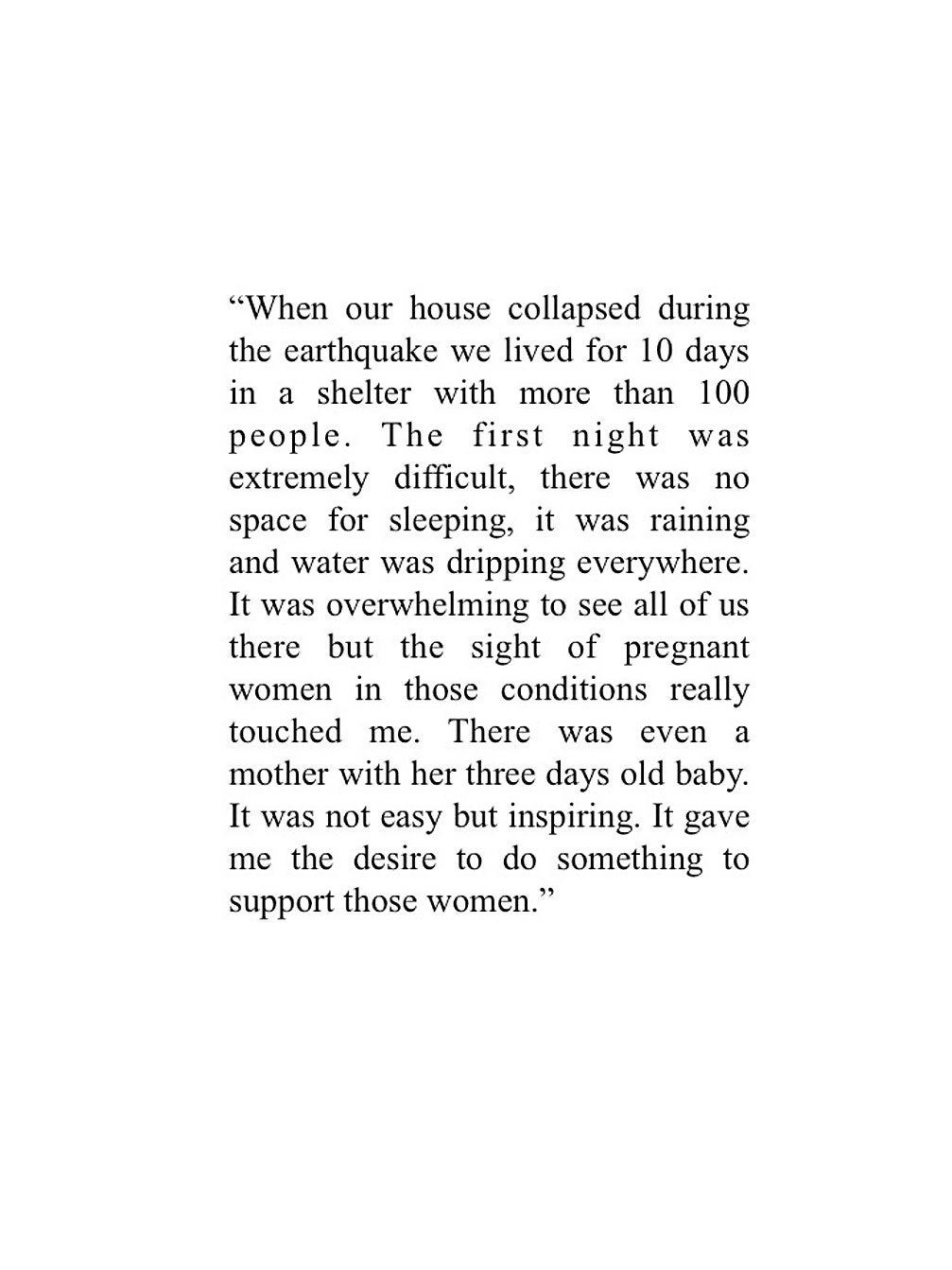 STRENGTH AND RESILIENCE
Jogmaya Maharjan's life changed drastically when the earthquake struck her hometown of Bungamati. The powerful tremors destroyed her house entirely, forcing her, her husband and son to move to a temporary tent. Having lost their home and with no hope for the future, her husband suffered acute anxiety and started drinking heavily. A few weeks later, a stroke paralyzed the entire left side of his body, leaving Jogmaya in complete distress. Now she not only had to face their difficult living situation, she also had to take care of her husband's recovery by juggling everyday care, medical visits and physiotherapy sessions. 
Her neighbor, conscious of her growing vulnerability, referred Jogmaya to the female-friendly space where she has been receiving regular psychosocial support. At the same time she was introduced to the livelihood programme that allowed her to start earning money through a regular knitting activity group. "My visits to the female-friendly space have been therapeutic. After all those abrupt changes in the past months, it has been calming to come here and has helped me to stay together."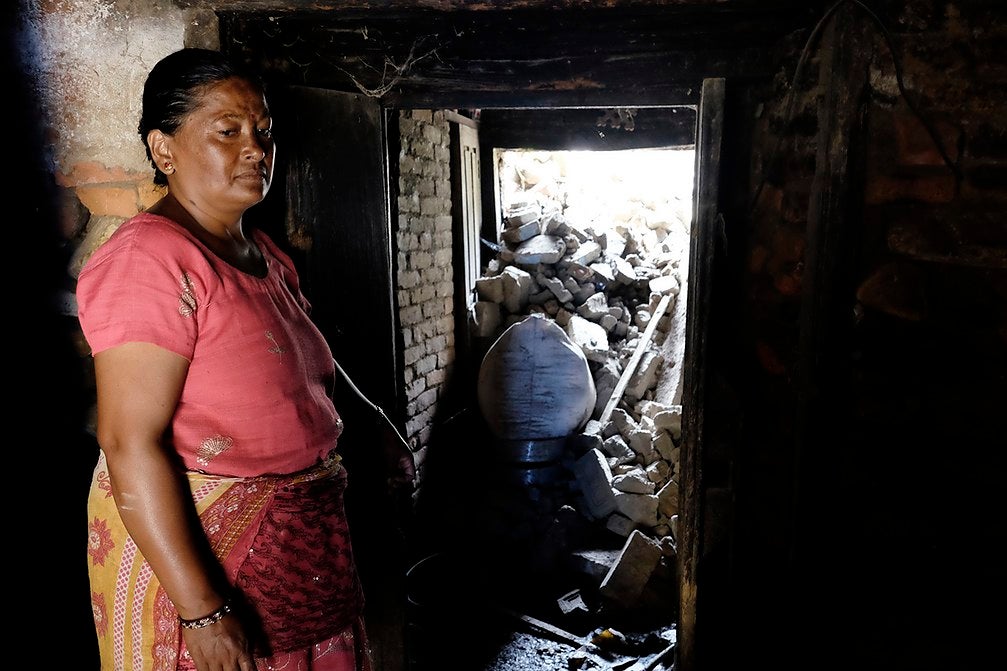 LIFE AND RECOVERY IN FEMALE-FRIENDLY SPACES
Ram Maya Majhi is a child minder in a female-friendly space in Charikot, Dolakha, one of the 14 hardest-hit districts.
As she dances and plays with the children, and as she monitors their homework, she appears joyful and engaged. There is a lot under the surface, however. As she talks about her past, and about the future, it is clear that she is preoccupied. There are things Ram Maya never mentions. She rarely refers to her own personal life – yet references to protection, women's rights and ending violence against women are frequent. This is what she wishes to dedicate her life to. Every day, she looks after the children of women who have come for shelter, psychosocial support, information on gender-based violence, legal advice or simply to be in the company of the female-friendly space workers. Ram Maya gives generously of her time, kindness, and child minding skills. In exchange she receives a small stipend.
Some female-friendly spaces are primary residences to women like Ram Maya. These are affected women who have been exposed to violence or abuse and are too frightened to go home. Often, indeed, they cannot: the stigma and shame associated with gender-based violence in Nepal means that once a woman has left the home, and certainly once she has reported the crime, and received services – she is often expelled from the family. For most survivors this is a desperate situation: with nowhere to go, and no livelihood opportunities, they are dependent on support programmes such as the female-friendly spaces. 
'I don't know yet how long I will be able to live here, but as long as the female-friendly space is working and everyone is happy with my services I want to stay here."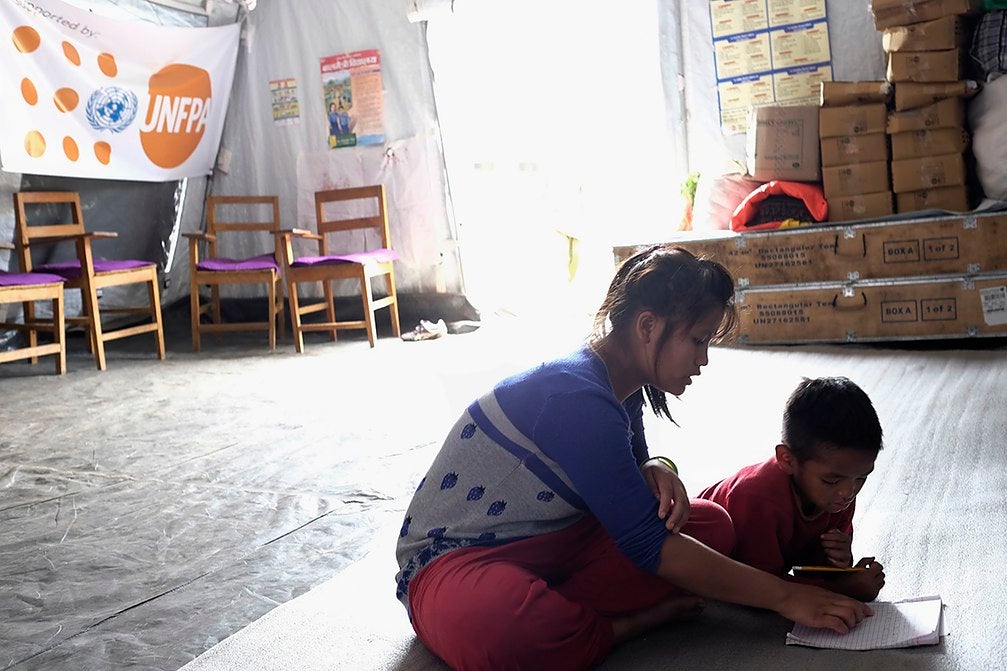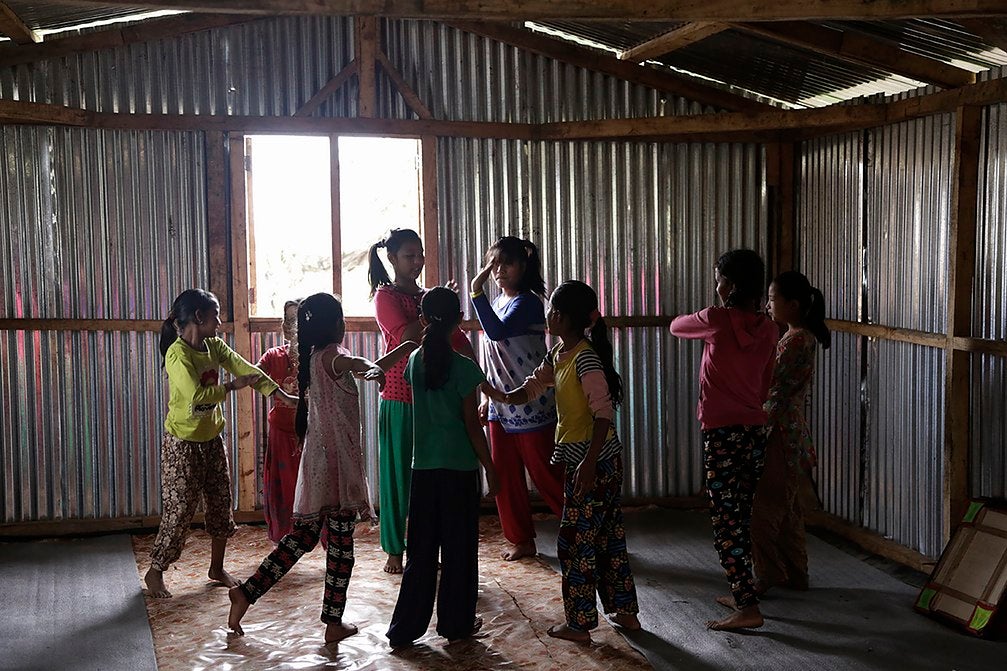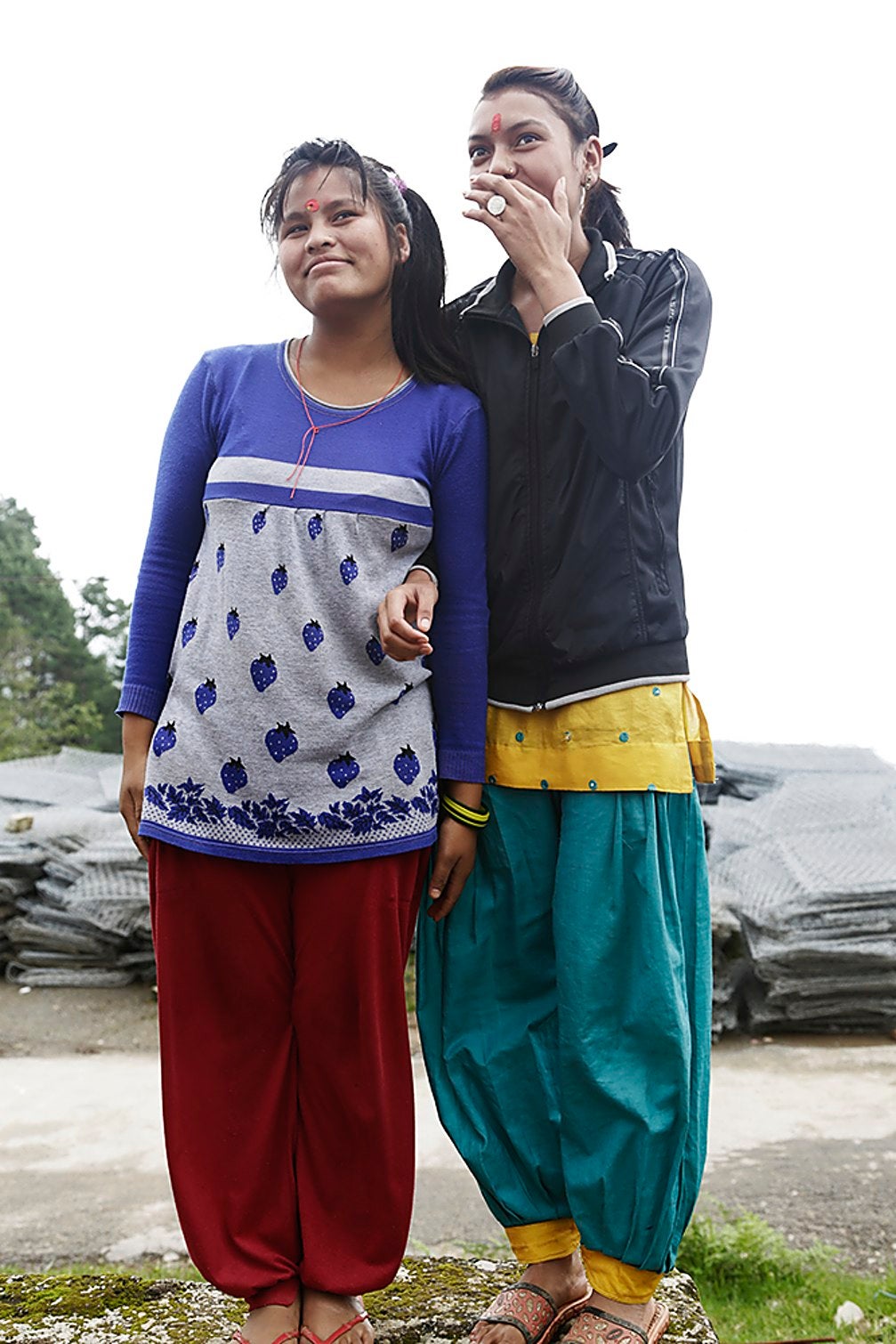 FROM A DISHEARTENED PREGNANT ADOLESCENT TO A DETERMINED MOTHER
Today, Shreejana BK is a caring and dedicated mother. Only a few months ago, she was a pregnant teenager with intense fears for the future.
"After the earthquake, I was nine months pregnant, the fear of losing my life and baby constantly haunted me as I had already realized that I am just 16 and my body is not fully mature."
The 16-year-old from rural Rasuwa district found a reason to smile again on June 24, 2015 - the day she safely delivered her first child – a healthy baby girl.
Almost 85% of the 18 health facilities in Rasuwa were damaged by the earthquake, including the one in Shreejana's village. Visiting the nearest health post for her delivery was next to impossible. On June 23 and 24, however, a reproductive health camp was organized in her village. After a check up and tests, she returned home. The next day Shreejana went into intense labor and was rushed off to the camp. Soon afterwards her baby was delivered safely. Shreejana was among around 300 people, mostly women of reproductive age, who received reproductive health information and services in the camp.
Local authorities say many women and girls were in need of reproductive health services following the earthquake. Indeed, many pregnant women had many additional fears following the disaster: not only were their homes and health facilities damaged; they were also worried about the implications of the trauma on their unborn babies. Many miscarriages were reported.
Once her baby grows up, Shreejana has promised herself that she will be an advocate. "I married at an early age out of my own free will and became an adolescent mother out of ignorance. But now I realize that the consequences can be costly. I will reach out to other girls in my village so that we can prevent child marriages and adolescent pregnancy."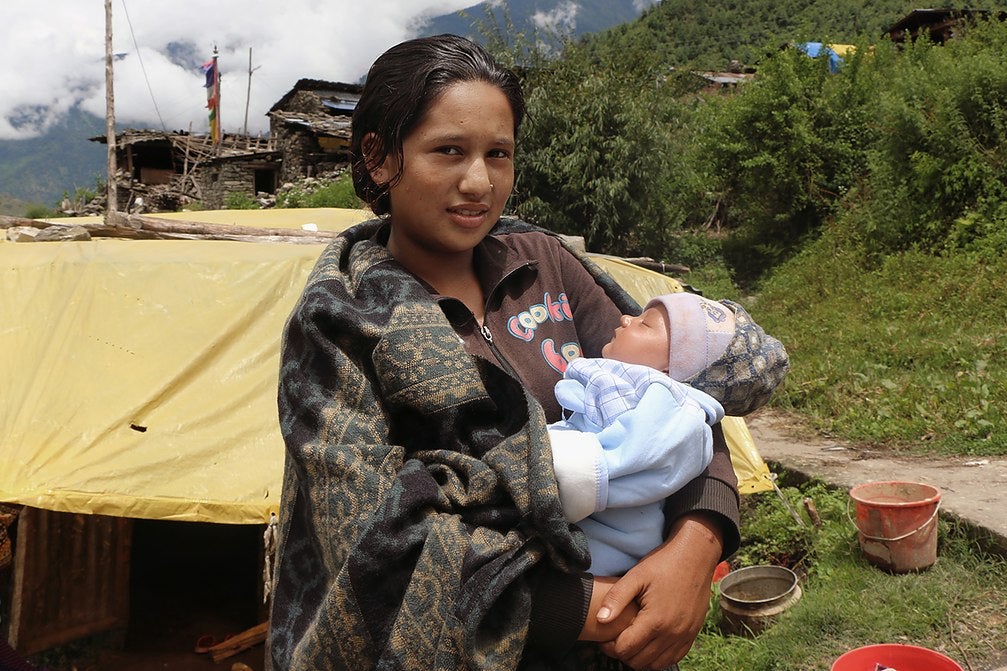 VOLUNTEERING IS BELIEVING
As a 18-year-old student and intern in an art institute in Kathmandu, Sita Ruwali wishes for a better world. She believes that her contribution to positive change for her generation is both a pleasure and a duty. Since the earthquake struck Nepal she has been sleeping in a tent with 16 people, managing to cope, day by day, with the new difficult reality her family and her community face. Sita remains full of life, however, and continues to search for opportunities to make a difference to earthquake affected people. When she heard through her youth network that UNFPA was looking for volunteers, she turned up to show her support. She spent several days with other volunteers packing supplies for dignity kits – packages of supplies - to be distributed to vulnerable women in affected areas.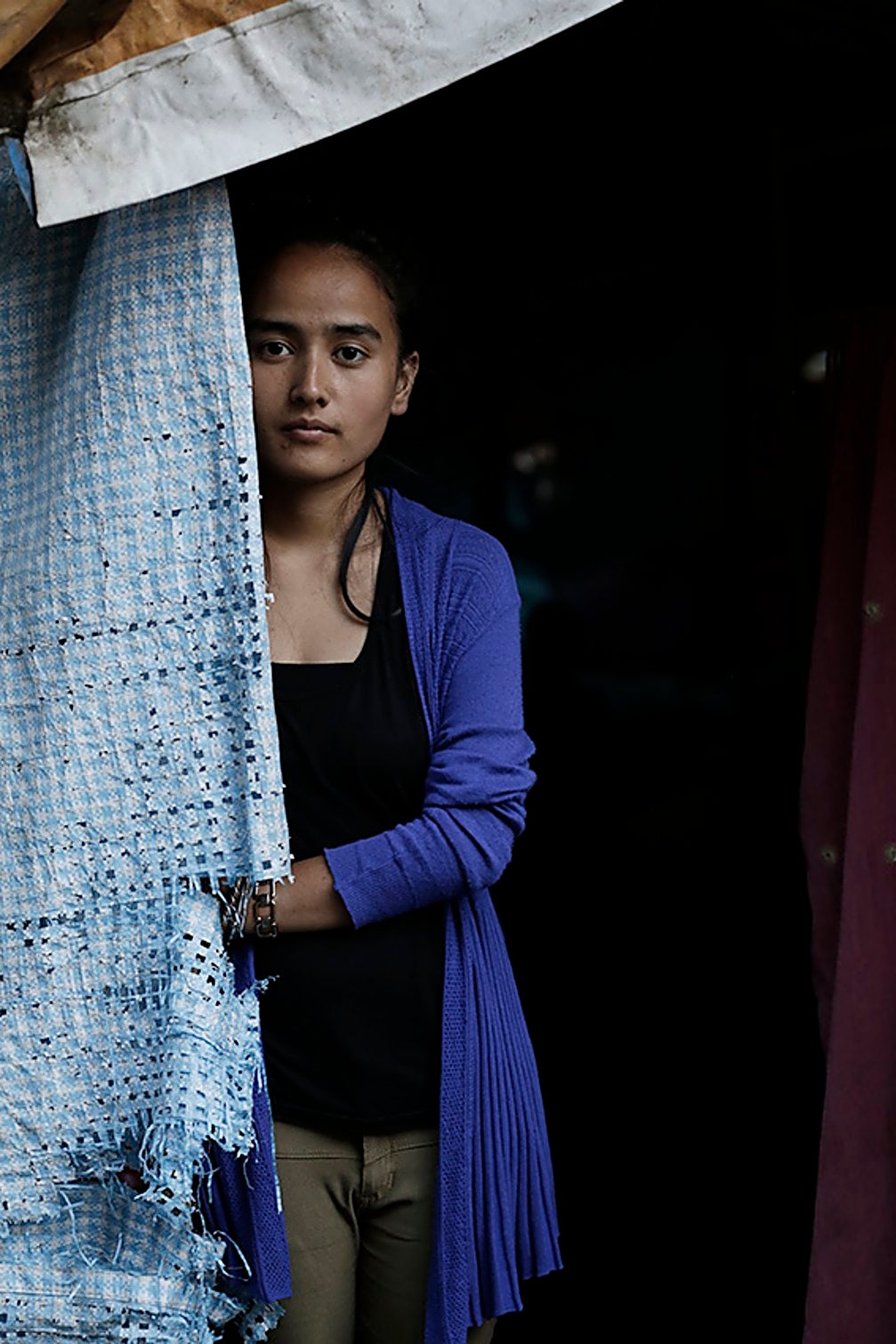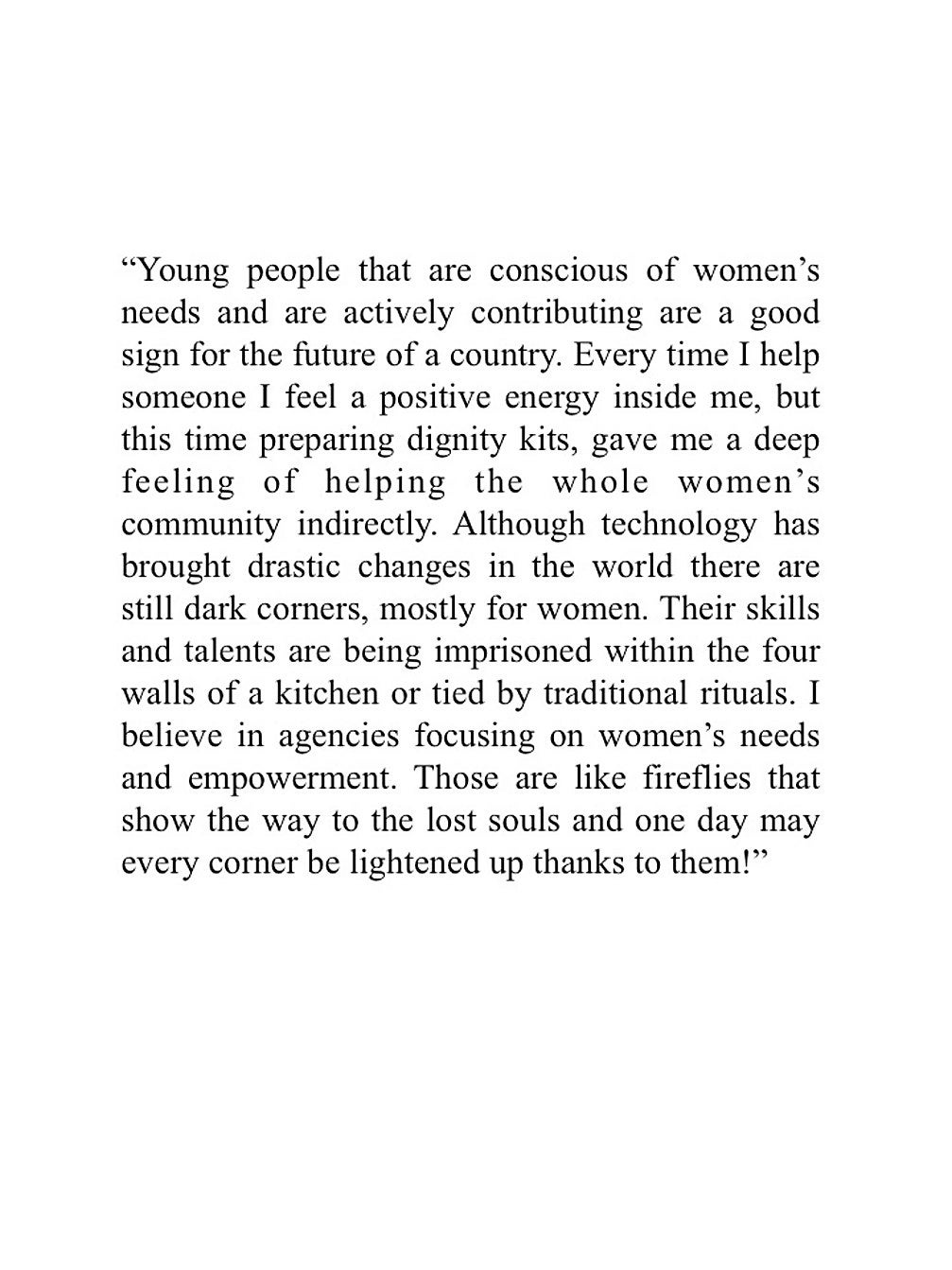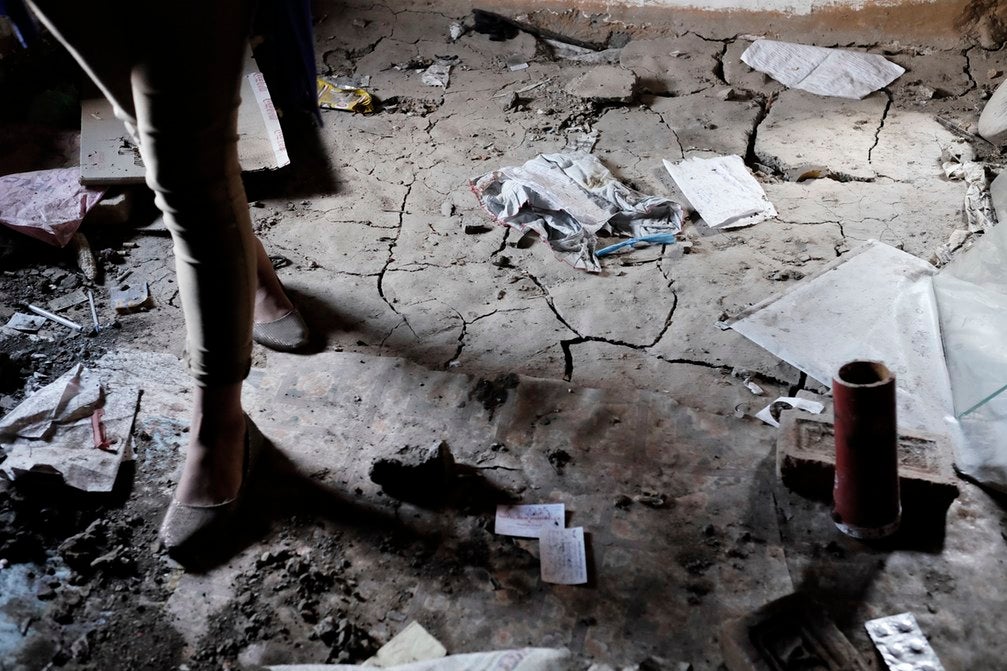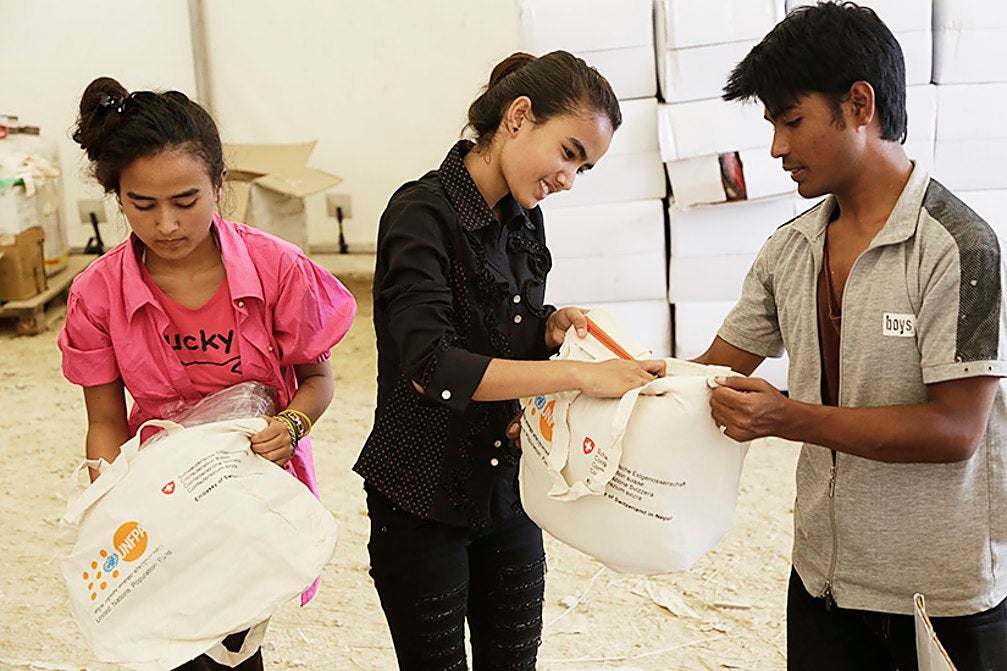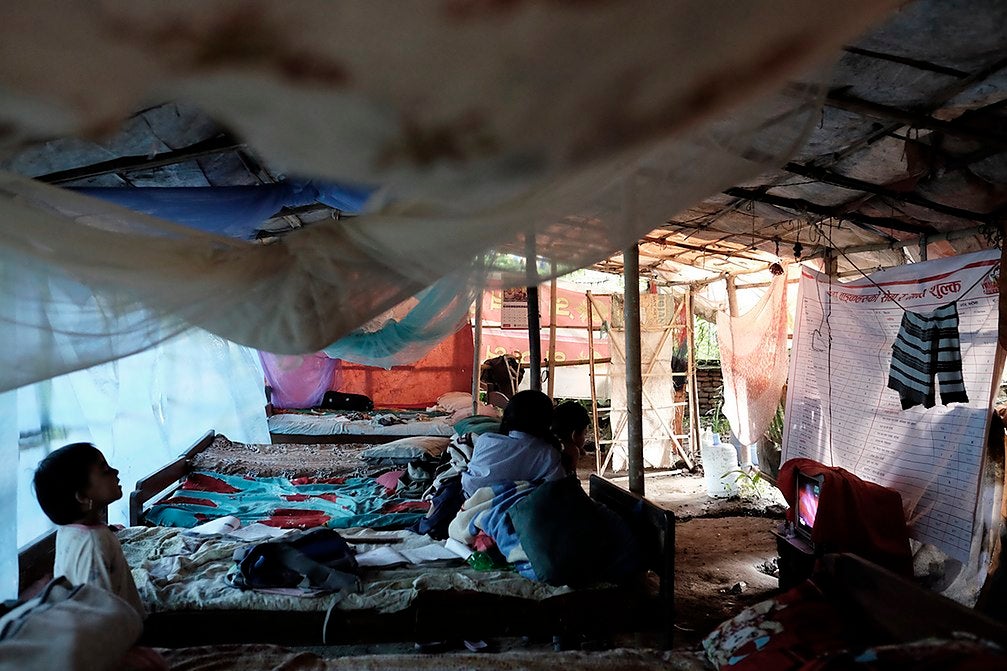 PSYCHOSOCIAL SUPPORT WITH LOVE
As a psychosocial counselor at the Chuchepati female-friendly space , Pooja Rishal has seen and heard many distressing stories over the last few months since the earthquake. Yet she has also embraced the opportunity to make a difference in many women's lives, including those suffering from post-earthquake trauma: "I met girls who were scared after the earthquake and women who didn't have any idea where to go after the tents are removed, adolescents who had a very rough life after the death of parents, or women whose husbands never came back home or women whose husbands left."
The female-friendly space has addressed many issues beyond the immediate impact of the earthquake, however – such as longer term issues of violence and abuse which the women concerned previously never had any opportunity to deal with. "I was very shocked to see women abused by their husbands and family members suppressing their pain for years on end, thinking that this was their fate. Often these women appear to have lost any real sense of their own identity – so focused are they on the needs of their husbands and family members." Since the opening of the centre in June, Pooja has seen significant changes. Her work has involved providing psychological first aid, individual and couple's counseling sessions, healing sessions to women, as well as laughter and dance group therapy.
"After providing counseling sessions to women - something they had never even heard of previously - many of them got an opportunity, for the first time ever, to express their pain. They have frequently told me what relief this has brought them. I could see a drastic change in them: they started thinking of themselves too."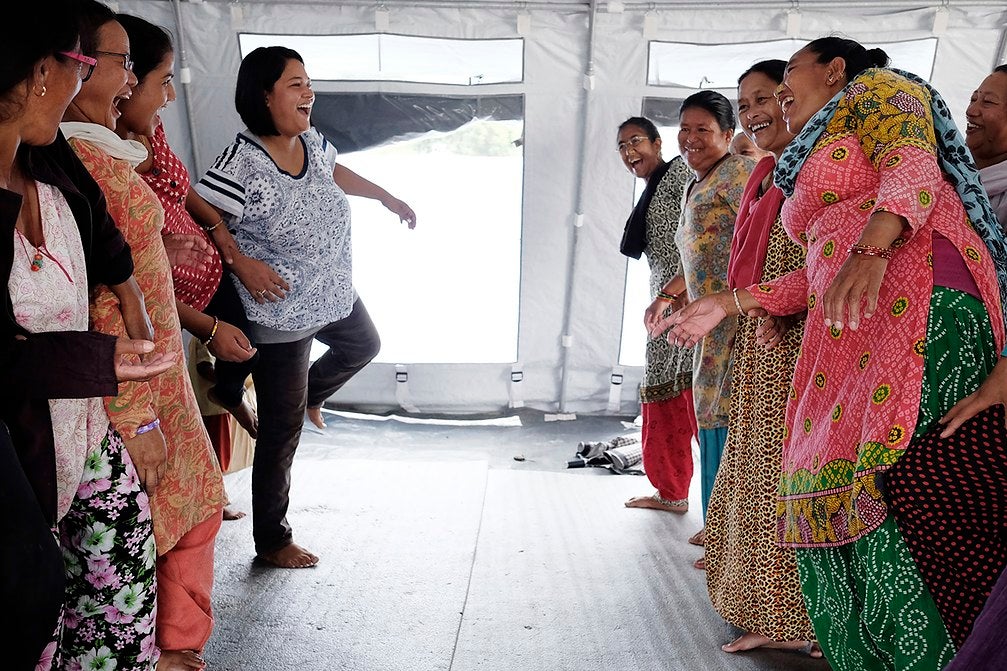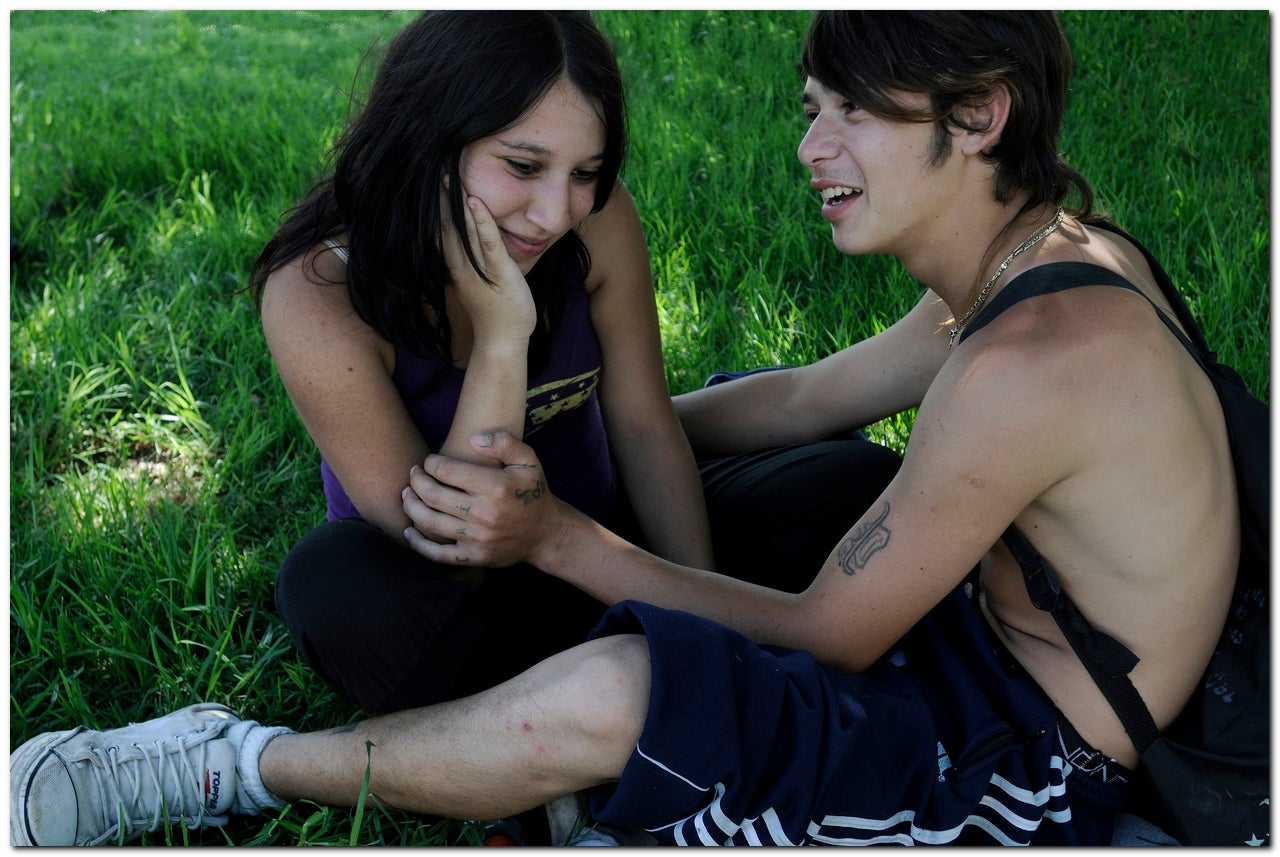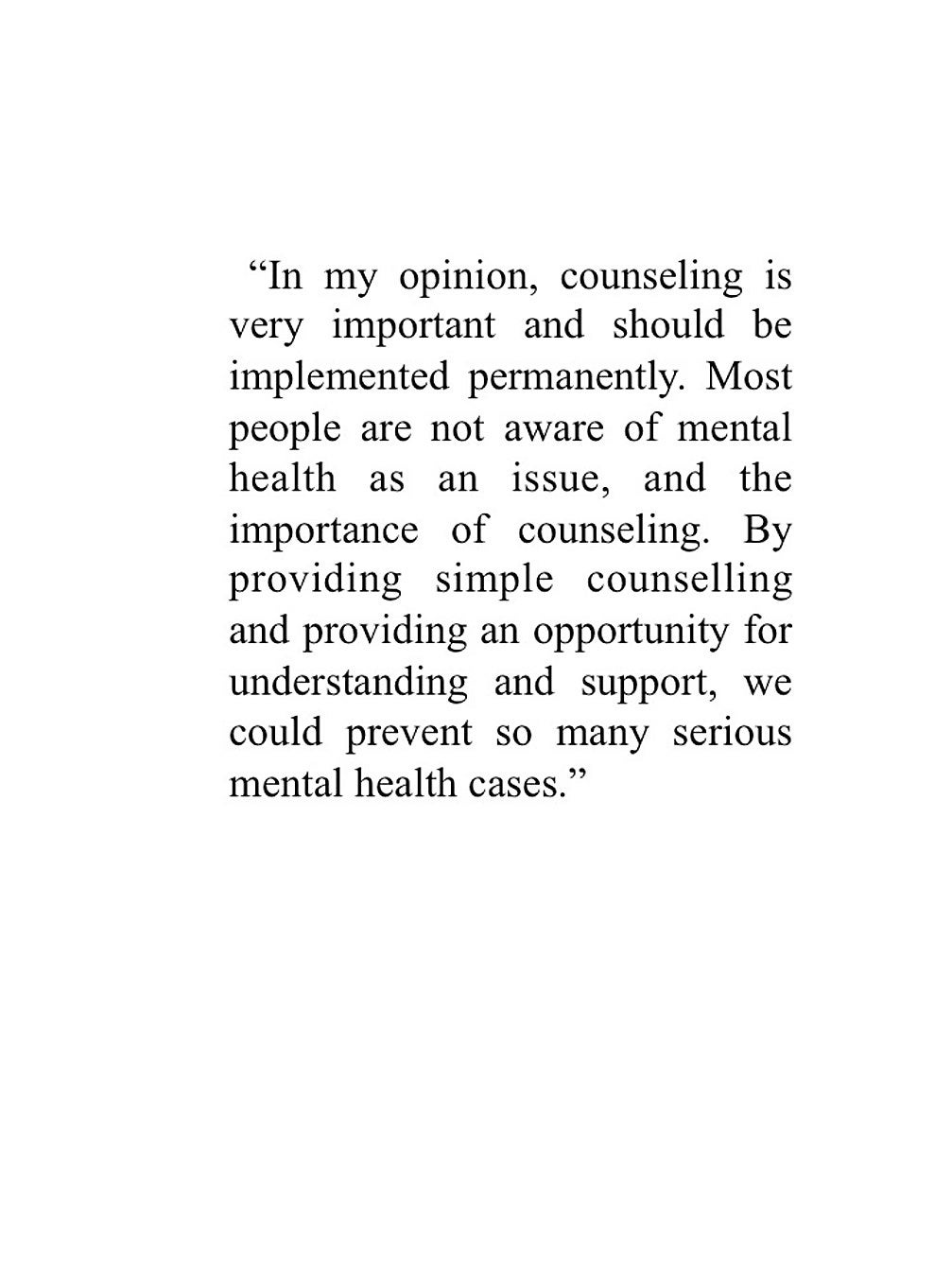 YOUTH PARTICIPATION IN EARTHQUAKE RESPONSE
Since the earthquake, Janak BK has visited around 30 villages, met over 700 survivors, and provided support in countless ways.
Janak, one of dozens of youth network members supported by UNFPA, is from Sindhuli, one of the 14 most-affected districts. The contributions of the youth network have helped families and communities cope with and recover from the crisis. In particular, they have helped provide dignity kits to women of reproductive age, support provision of reproductive health services, create awareness on the special needs of women and girls, prevent and respond to gender-based violence. In short, they are helping Nepal to recover.
"Although we have less social power than political leaders and full-time social workers, young people have an important role to play in emergencies," says the 24-year-old. "Being a member of the UNFPA-supported Youth Network I felt I had a responsibility to the earthquake survivors."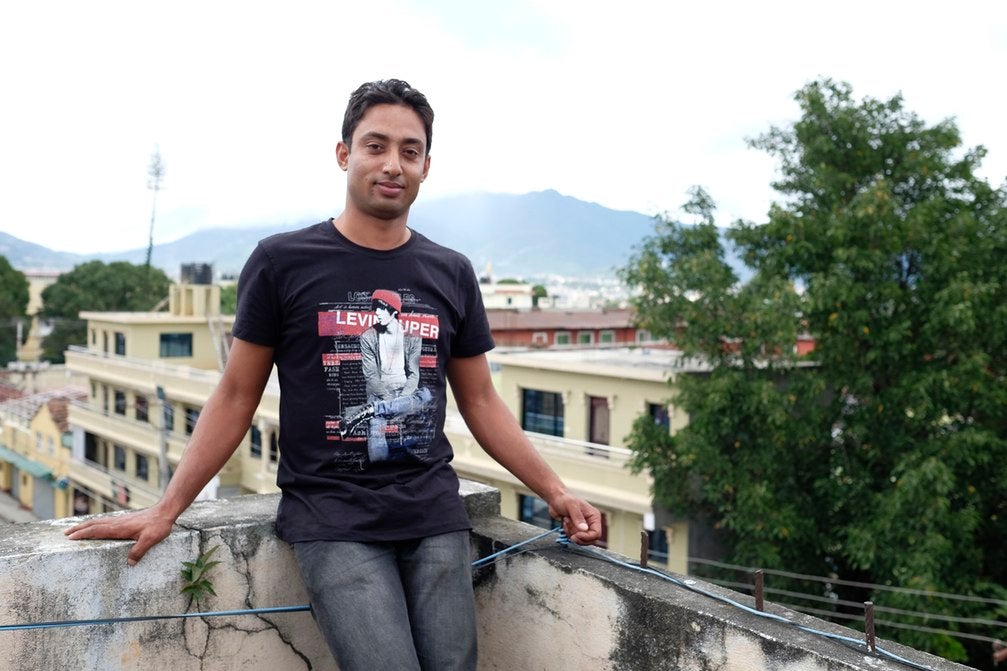 RELIEVING STRESS THROUGH FFS SERVICES
Like so many other women in so many earthquake-affected families, Sani BK had to build a new home hastily after the disaster. Two days later, she found herself with her husband, their two children and her brother in a tiny tent in the Chuchepati displacement camp in Kathmandu, which housed 7000 people at the time. Their new improvised home was set up near the UNFPA supported female-friendly space , giving Sani an opportunity to explore the services offered there. Since then, she has been participating in a wide variety of activities, including laughter therapy, English and Nepali language classes. She has also received information on reproductive health and gender-based violence through orientation sessions offered at the female-friendly space.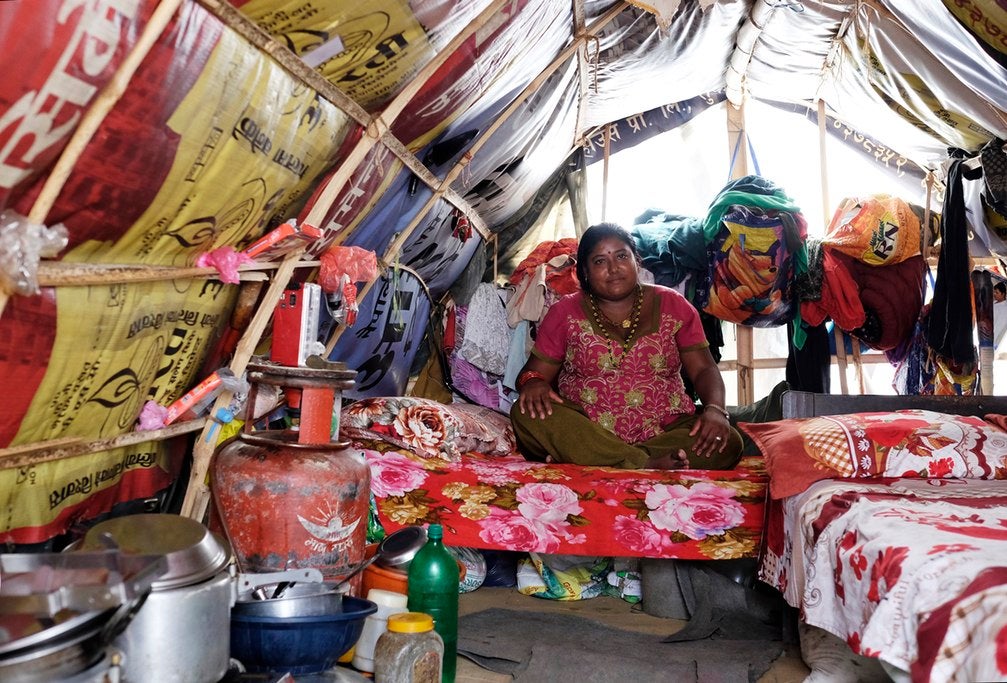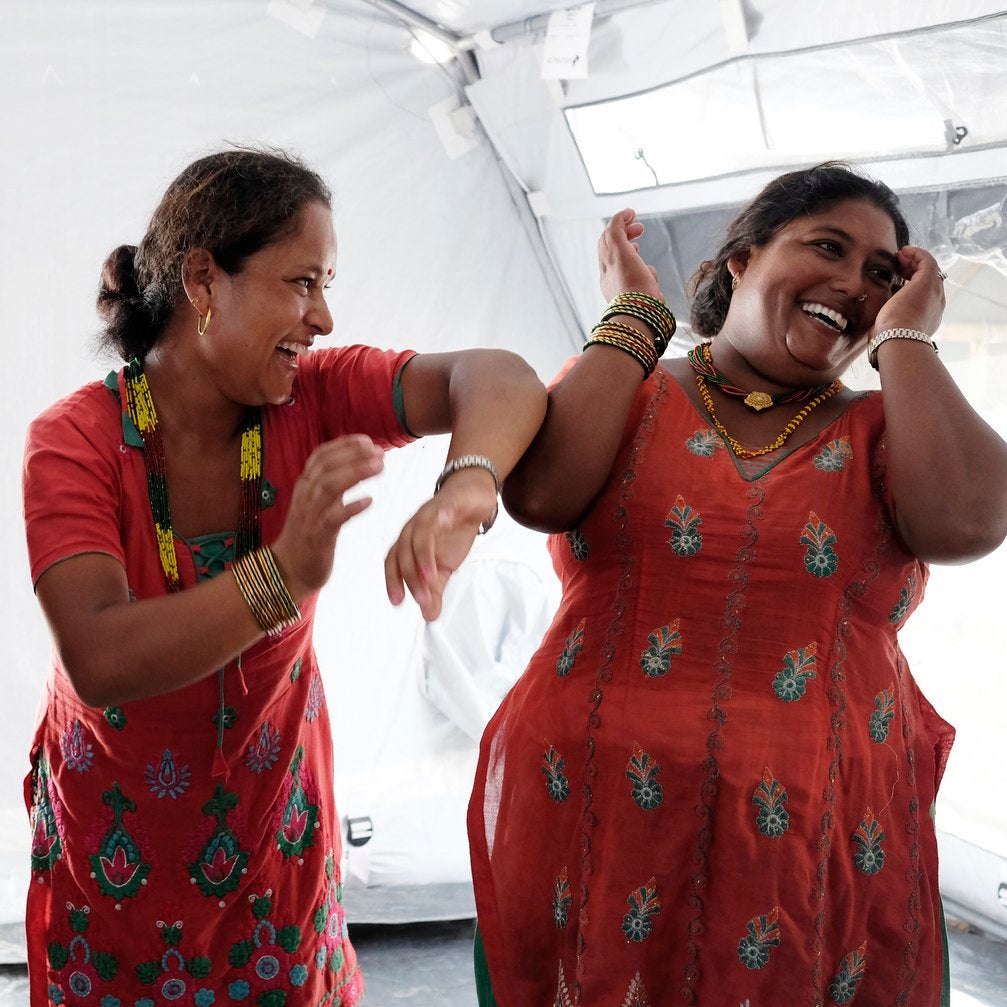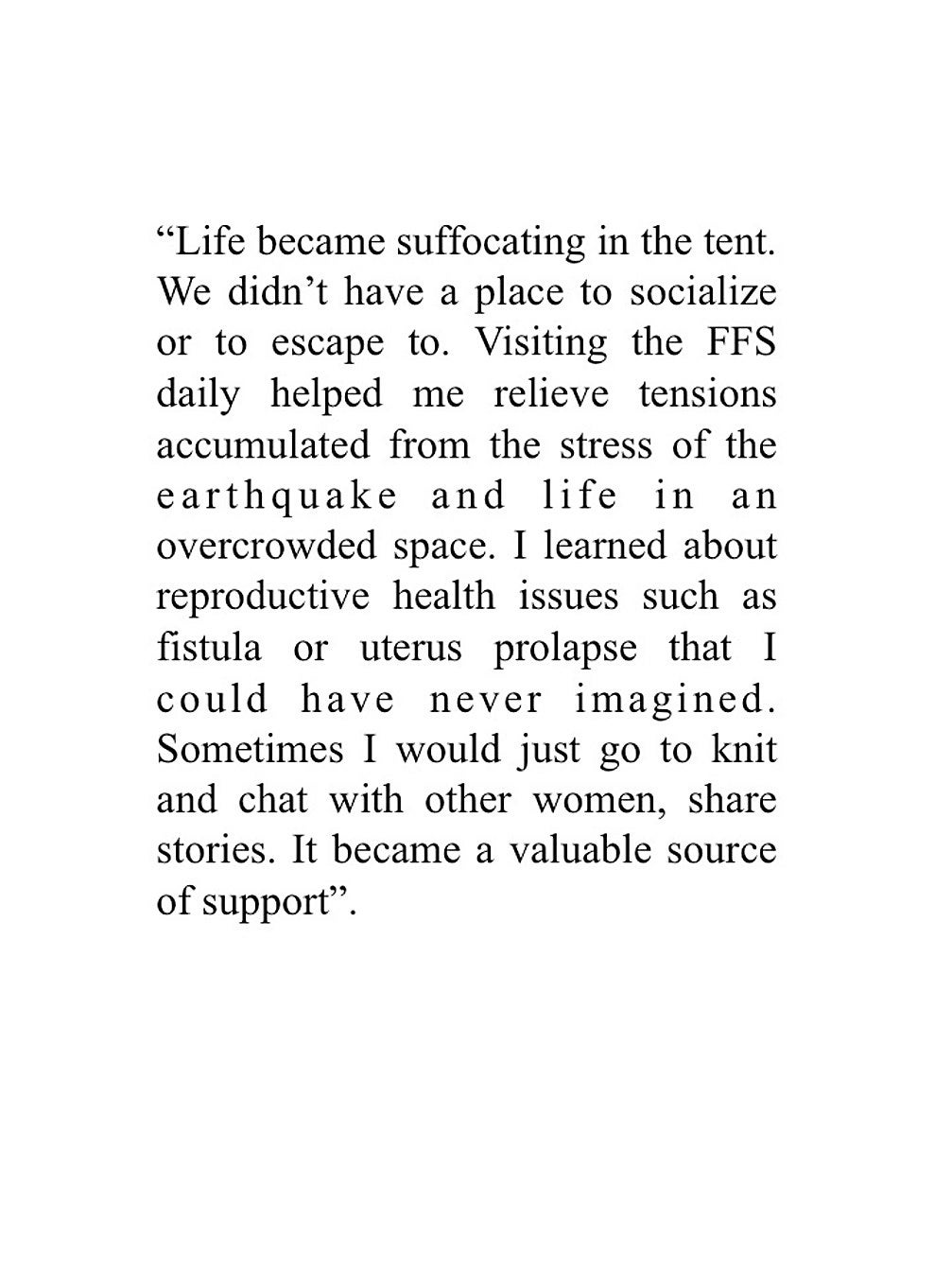 ON DUTY AROUND THE CLOCK
When Bhawani Rupakheti talks about her commitment as a Female Community Health Volunteer (FCHV), it is easy to detect a great deal of pride. And rightly so: she has served her community humbly and with great dedication for the last 14 years. At the age of 20 she was selected by community members to enter the highly praised community of FCHVs who work across Nepal to promote healthy behaviors of mothers and community members and to promote safe motherhood, child health, family planning and other community based health services.
When the April 2015 earthquake hit her municipality in Dhading, one of Nepal's most affected districts, Bhawani made herself available to work around the clock at the health facility next to her house. She devoted her time to home visits to distribute iron tablets, oral rehydration salts, condoms and other supplies, as well as to provide ante-natal and post-natal check-ups to new and expectant mothers at their homes. She assisted health workers during deliveries and reached out to women and adolescent girls to provide information on the implementation of transition homes, maternity units and reproductive health camps.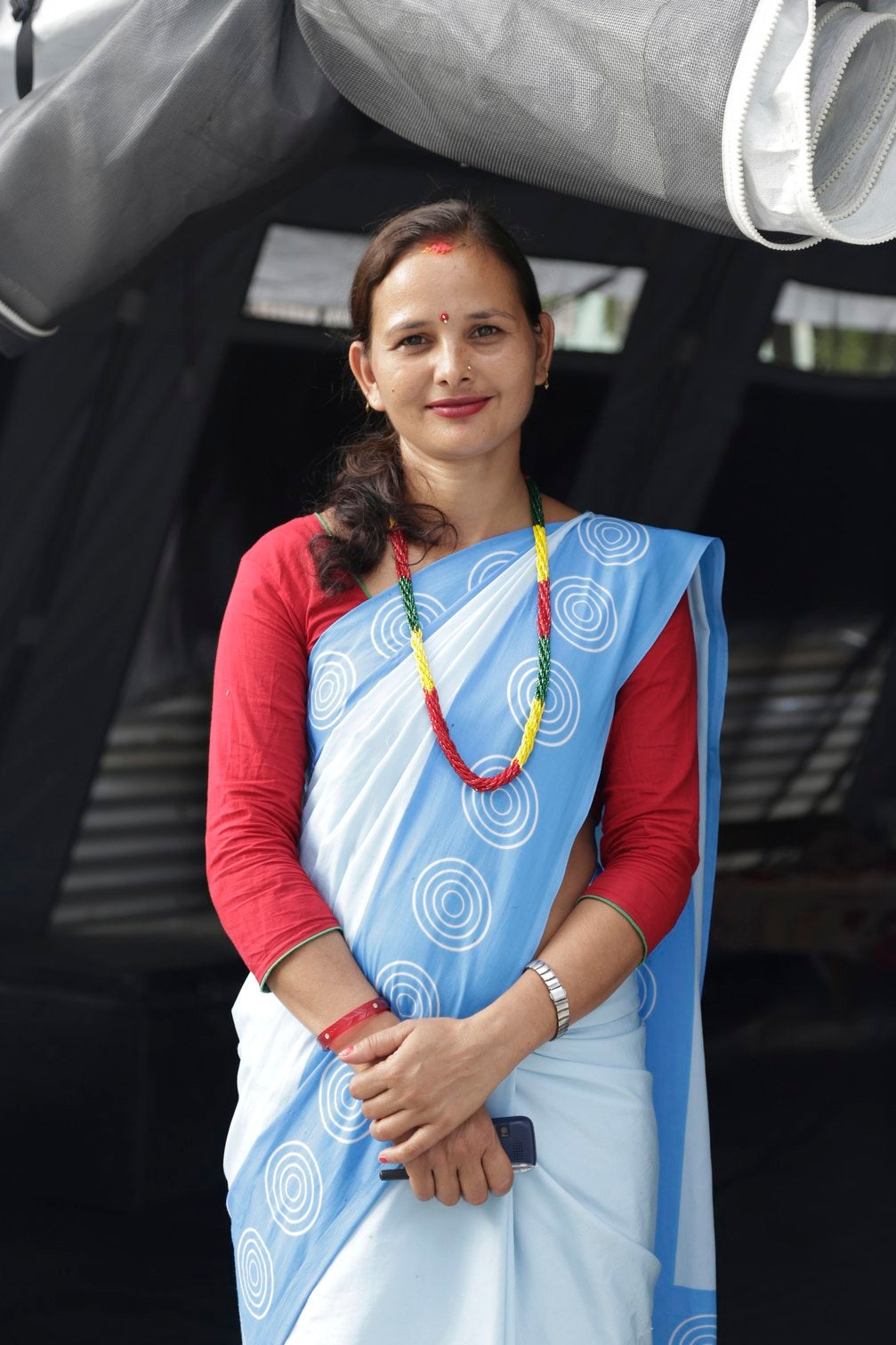 FEMALE-FRIENDLY SPACES:
Gender-based violence increases in emergencies because of the disruption of law and order, lack of support services, increased vulnerabilities, breakdown of community networks and many other reasons. Females of all ages are more vulnerable in emergencies - therefore preventing and responding to GBV are crucial protection issues that have to be addressed in all aspects of an humanitarian response.
A female-friendly spaces is a place where vulnerable females (some of whom may be GBV survivors) can go to at any time to feel safe and have access to support and services. These are integrated spaces offering a range of services including resources, information, and social networks. female-friendly spaces are used for various activities such as individual or group counseling, awareness-raising, skills-building and non-food items distribution, as well as recreational activities such as yoga, dance classes, and even laughter therapy. Information on critical issues is shared in these spaces such as where and how to access humanitarian services and information on reproductive health, legal rights, childcare and GBV. female-friendly spaces are also safe spaces that promote women's protection and help mitigate the risk of GBV.
Many female-friendly spaces also include sleeping space for females who are alone, or who cannot return home. At a minimum, each space has an female-friendly spaces manager, a case manager, a psychosocial support specialist and an outreach worker who goes to nearby communities to raise awareness about the space. Additionally, most of the spaces have a child minder, and many have kitchens too.
UNFPA established 14 female-friendly spaces in the months following the April earthquake. As of 30 September almost 21,000 women and adolescent girls had accessed female-friendly spaces and over 22,000 had been reached through outreach activities. It has become clear that many of the services needed to relate to gender-based violence committed before the earthquake. Women simply had not sought services before because none were available. It is therefore essential that service delivery is not interrupted. UNFPA is committed to continuing to support the local authorities in providing care until more permanent solutions – such as the establishment of One Stop Crisis Management Centres and safe houses – are established at the district level.